Liftsafe Fall Protection (LFP) has had decades of experience working with clients, dealers and partners in creating solutions for Aviation Maintenance, Active and Passive Fall Protection, Building Access and Industrial Warehouse Safety. Having an in-house engineering team with vast experience in creating projects in these areas allows our clients to look back at some of our past projects to see which solutions match with their current issues.
Check out some of our recent projects below.
Aviation Maintenance
Engineering
Guardrail
Ladders
Netting
Aviation Maintenance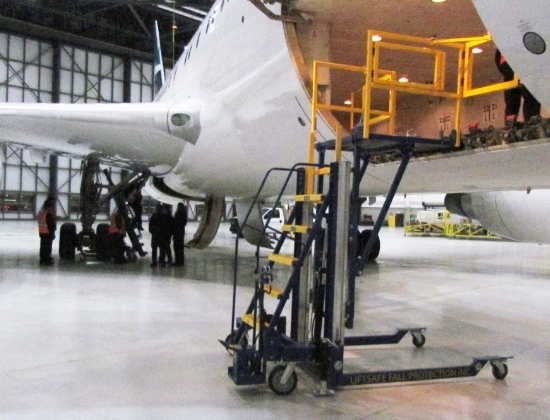 Aviation Platform Stand Built to Replace B Series Stands
The Aviation Platform Stand was originally engineered and designed to replace the "B" series stands (1 through 7) which were originally designed and produced in the early 1950's to support the highly classified and state of the art B-52, KC-135 and several other new generation aircraft of the era.
The Aviation Platform Stand, which meets and exceeds ANSI, OSHA, CSA, BA and CE standards as well as other standards around the world, is an example of today's safety, ergonomics and multi-functionality demanded in aircraft operations, manufacturing and Maintenance Repair Organizations (MRO'S).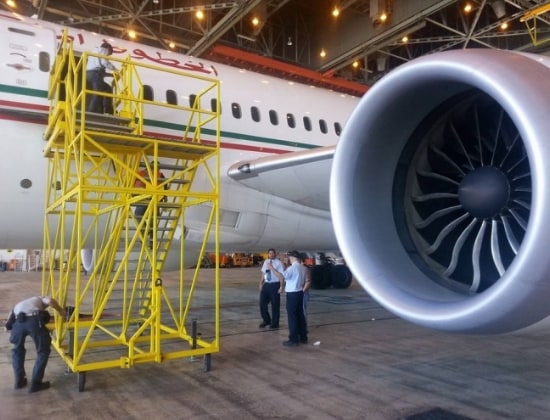 One of our more popular aviation maintenance platforms the Wide Body Aircraft Access Stand has recently been servicing a Royal Air Moroc 787. Our Wide Body Aircraft Access Stand has been designed specifically for the maintenance of wide body aircraft, as shown.
View Project
Engineering
Guardrail
Ladders
Netting
We offer a huge selection of products and quick quotes for what you're looking for
Give us a call. Our friendly customer service staff are on hand to help you.