Roofguard Ladder Guardrail (Fixed Access Ladder Egress)
Our Fixed Access Ladder RoofGuard Kit is a non-penetrating system, designed to provide a safe zone for anyone getting on or off an access ladder. Designed with simplicity in mind, this rooftop guardrail system can be quickly and easily assembled and installed onto most rooftops. To ensure quick and easy installation, we designed RoofGuard with a modular design thus allowing for a quick installation that requires no welding, drilling or bolting into the actual roof structure.
Because our guardrail system utilizes a counter-weighted system, there isn't any cutting required into the existing rooftop surface, meaning RoofGuard's safety guard railings do not have direct or permanent attachments to your rooftop. As such, this rooftop guardrail system does not require re-sealing, which will ensure that you do not have unexpected leaks.
Our baseplates are lightweight and stable on all roof surfaces, but are also stackable which allows for them to be installed with minimal effort.
LadderGuard has been designed to meet or exceed all major North American safety standards/regulations including Ontario MOL requirements, ANSI, OSHA, Canadian OHS & WorkSafeBC.
Death of worker results in $100,000 fine for Ontario Company
The Company pleaded guilty to failing to ensure workplace safety standards were met, as outlined in the Ontario Occupational Health and Safety Act.

Companies are required to protect their workers with a guardrail system or another fall prevention method.

The Ontario man succumbed to his injuries and passed away less than two weeks later.

Do the right thing; protect your employees/company with a passive fall protection system.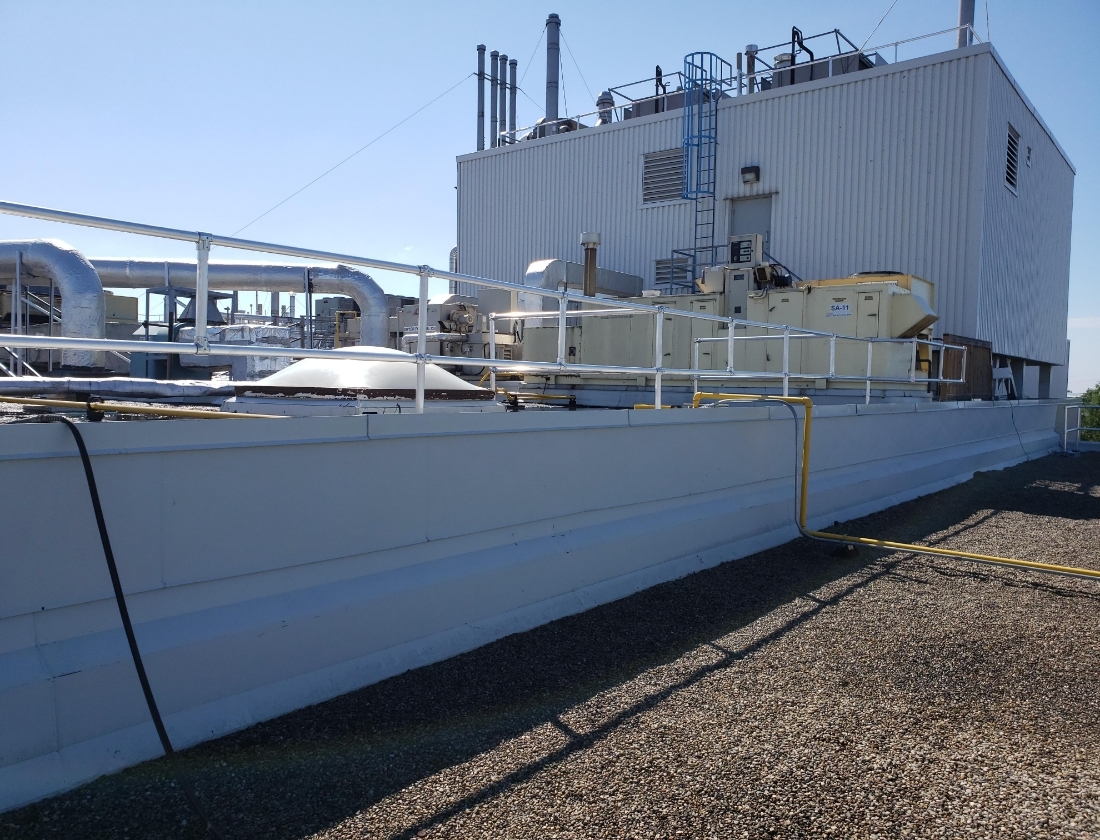 Here's Why the Fixed Access Ladder RoofGuard Kit is the Solution for You:
Like all of our rooftop guardrail kits, our Fixed Access LadderGuard Kit is designed to fit on a single pallet; most parts are pre-assembled with easy to follow instructions and a single tool for installation. This free-standing, modular system is constructed with corrosion-resistant lightweight aluminum tubing and utilizes counterweighted baseplates. It does not require rooftop penetration, which ensures that your roof will remain intact, so you won't have to worry about unexpected leaks occurring from using this system.
Components
Specifications/Features
Regulations
Resources
Components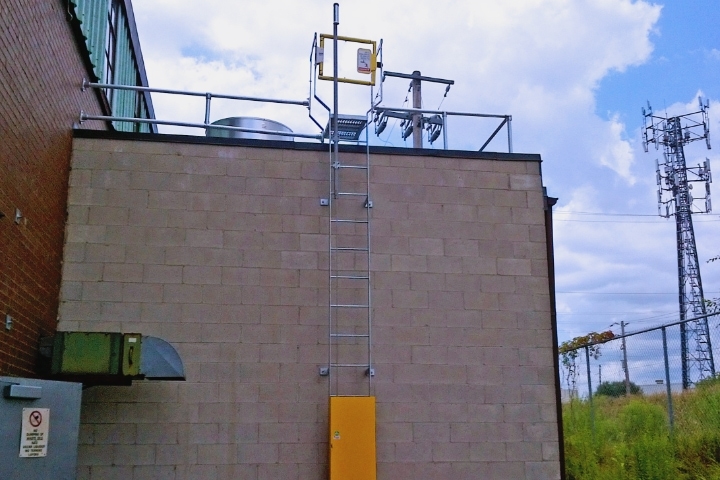 All kits are customizable depending on rooftop layout and applications and include:
Base plates: Galvanized cast steel weights (18kg) with three optional holes for vertical post-placement. Includes carry handles to avoid pinch points. Masticated rubber pads included.
Aluminum pipe: Aluminum T6-6061, 1.5" SCH 40 – 48mm (1.90 inches) O D.
Fittings: Aluminum, Magnesium Alloy, 535.
Fasteners: stainless steel
Specifications/Features
Regulations
Resources
Frequently Asked Questions
Passive Vs Active Fall Protection
When a hazard assessment is completed, and a need for fall protection is established, there are two general types of systems that can solve the need and keep the workers safe, passive or active fall protection.
A "passive" fall protection system refers to a system that is non-dynamic, stationary, and does not move or adapt or change when in or out of use. They do not require the use of Personal Protective Equipment or active participation from the worker. Typical passive solutions include Guardrails or Netting Systems. This is the preferred choice for its ease of use without the need for additional training and PPE.
An "active" Fall Protection System requires the use of special equipment and participation by the worker. There are two types of Active Fall Protection Systems, fall restraint and fall arrest systems. These systems share the common feature of securing the worker wearing a full-body harness to an anchorage point with some type of connecting system, depending on the application. Active Fall Protection Systems include Fall Arrest Anchors, Roof Anchors, and Safety Harness'.
The Hierarchy of Fall Protection Solutions
Check to see what federal & provincial regulations for working at heights and fall protection are and which RoofGuard systems help you comply.
Our team is committed to providing the highest level of customer service. If you didn't find the information you were looking for, please contact us.
Learn from the experts about safety topics related to working at heights, warehouse safety and ladder safety. Browse our resource library.
We offer a huge selection of products and quick quotes for what you're looking for.
Give us a call. Our friendly customer service staff are on hand to help you.