Portable Truck Netting Systems
Our Portable Truck Net Systems are designed to be used in areas where companies do not want to pour footings or permanently secure posts in place. Originally developed for outdoor use as a "tarping" or "load securement" station, these systems can be placed anywhere that there is a flat, level surface. If you decide to move the system 6 months down the road, all you need is a standard forklift. Bases have fork pockets built in. When delivered empty (with rebar and anchors already welded in place), simply fill with concrete to achieve the desired weight.
Why invest in truck netting?
Falls off of flatbed trucks during loading and unloading operations are on the rise due in part to irregular materials such as steel, pipe, timber, unbalanced loads, and a lack of knowledge regarding fall protection safety within the industry. Our systems are designed to eliminate the number of serious accidents whereby personnel is either fatally injured or suffer a significant injury from a fall.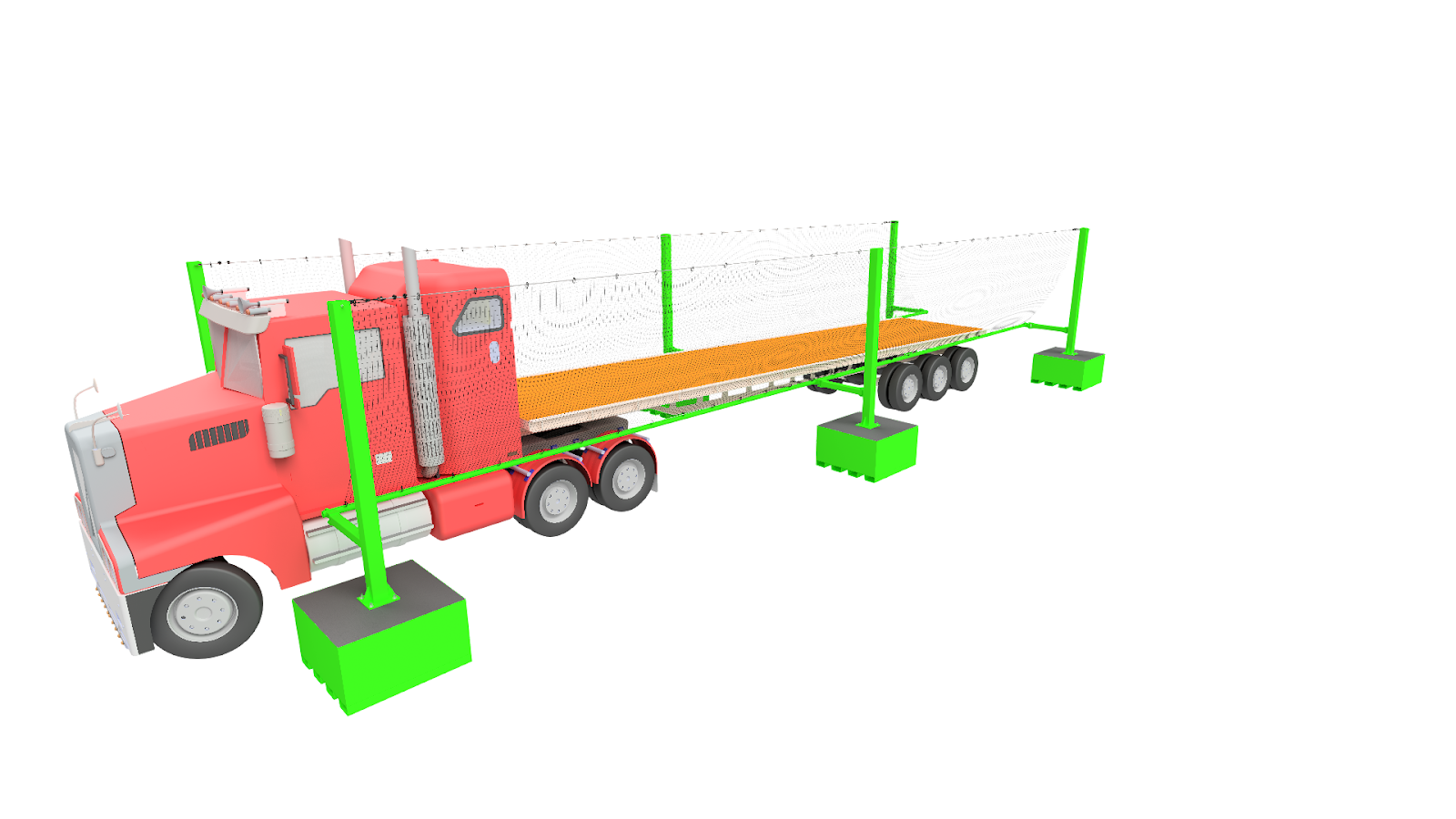 Pivoting Portable Truck Netting System
The Pivoting Portable Truck Netting System is built with a compression arm that can pivot to rest directly against your flatbed truck. It is ideal for facilities that have multiple use bays or where customers do not want to connect directly to the flatbed. The compression arms swing out from the columns and butt up against the side of the flatbed to create a fall protection solution that is quick and easy to set up. This system is engineered with non-permanent weighted bases and fixed columns that can be moved if necessary. Bases have fork pocket holes to assist in moving and are typically used in applications where mounted posts are not feasible. All components can be taken apart if needed.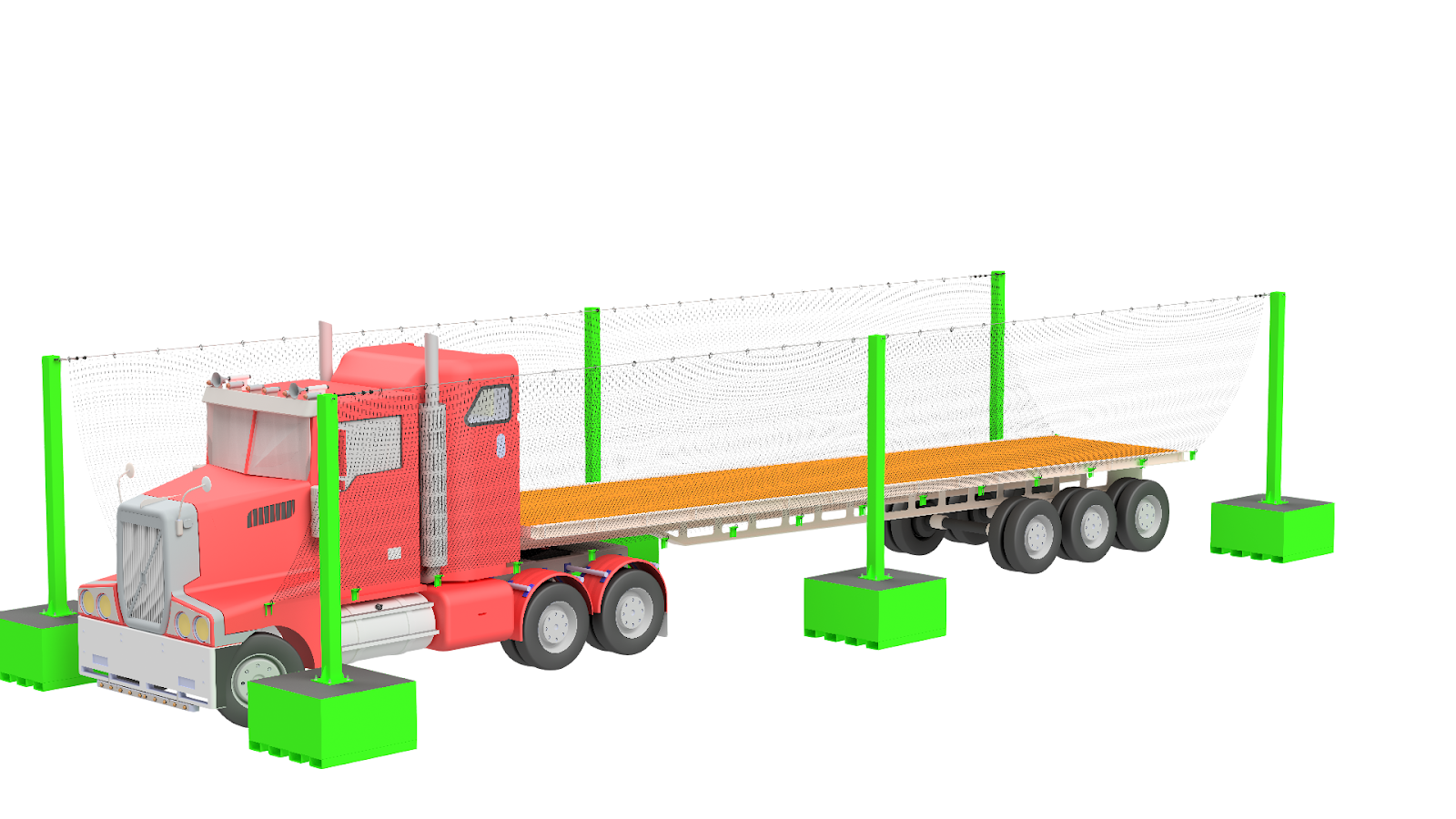 Fixed Base Portable Truck Netting System
The Fixed Base Portable Truck Netting System includes weighted bases with fixed vertical columns that can be moved and used in multiple locations. Ideal for outdoor applications, this non-permanent system solves pavement mounting limitations with fork pocket bases for moving. The netting is attached with wire rope and custom brackets that attach to the stake pockets of the flatbed trailer. These systems are typically used in applications where pouring the footings to mount permanent posts is not possible. Take advantage of this highly beneficial safety system that protects employees while taking up very little space in your facility.
Specifications
Features & Benefits
Applications
Regulations
Catalogue
Specifications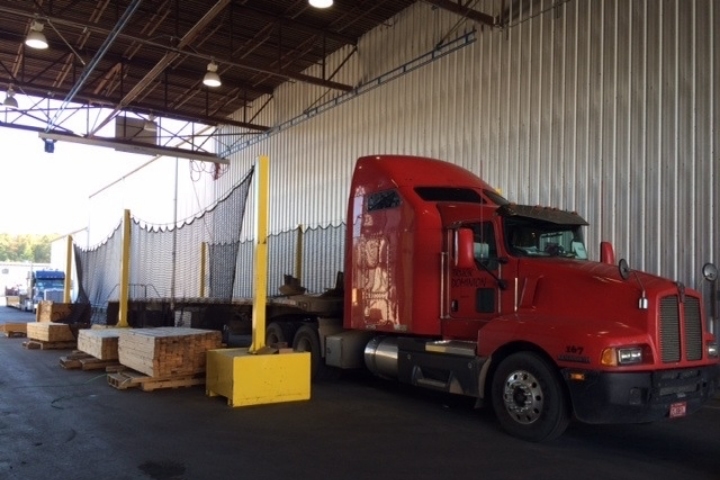 Bases: 4000 lbs (2 tons per base)
Custom net sizes based on each project
Material: 3000 lbs net – nylon
U.V. protection
Net colour: black
Fire rated (FR) (NFP 701)
Load rated netting panels (2500#)
Engineered offset brackets
Customized solutions available
Features & Benefits
Applications
Regulations
Catalogue
Frequently Asked Questions
Learn more about our team and what sets us apart as industry experts in fall protection, ground support and material handling industries.
Dive into the latest netting options our team has to offer. This catalogue will provide a complete overview of our products and services.
Our team is committed to providing the highest level of customer service. If you didn't find the information you were looking for, please contact us.
We offer a huge selection of products and quick quotes for what you're looking for.
Give us a call. Our friendly customer service staff are on hand to help you.