Every year, thousands of accidents occur across North America as a result of improperly installed or non-existent safety systems. The construction industry is a common source of these incidents, with dangerous equipment and high-risk work at heights. Our construction netting offers a solution to help protect employees, the public and your liability when working at heights. Our debris netting and personal safety netting allow workers to move about construction sites with ease, with netting in place to catch large and small debris.
Liftsafe Fall Protection can provide construction netting products designed specifically for multiple construction applications. Our heavy-duty netting can support high-rise construction, debris containment, and more. Liftsafe provides netting that meets the strict ISO 9001 and ANSI 10.11 safety standards to ensure the highest product quality. Bring your job site into compliance with OSHA and ANSI-rated safety systems that are tested and proven safe and effective.
This product is not a fall protection system and is recommended for debris containment to protect against falling objects. Connect with our team to better understand the applications available with our construction netting products.
Passive Vs. Active Health and Safety Systems
A "passive" system refers to a system that is non-dynamic, stationary, and does not move or adapt or change when in or out of use. They limited the need for Personal Protective Equipment, active participation or additional training from the worker.

Typical passive solutions include Guardrails or Netting Systems.
Components
Specifications/Features
Applications
Regulations
Resources
Components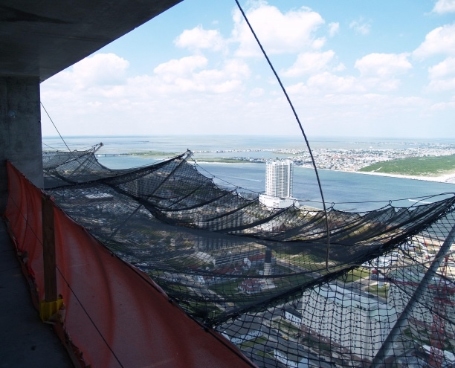 AIRCRAFT CABLE (GALVANIZED CABLE)
NETTING PANEL

Debris netting
Fall arrest netting – 6000 lbs net – 2-½" square

STANDARD RIGGING

Stanchions
Slab grabs
Wire Rope Clips
Thimbles
Turnbuckles
Eyebolts
Safety Snap Hooks
Specifications/Features
Applications
Regulations
Resources
What our clients are saying
Delta Airlines has purchased 17 of the Liftsafe Engine Access Stands, for stations all around our system.

We use them in both the line maintenance and hangar maintenance to accomplish work on the engine and pylons for our wide-body aircraft. These stands are an excellent solution to a longstanding problem - providing fall safety protection in difficult to reach areas. The stands are of high-quality construction and provide a unique solution to a challenging fall safety concern. We would highly recommend this product.
We would like to thank all involved in the design, construction and installation of the horizontal lifeline systems on the lighting grid platforms at Rogers Centre. We also appreciate your recommendations regarding fall arrest and rescue equipment.

The horizontal lifeline system is user-friendly and provides the additional security for workers that we hoped it would. Those who use it have provided positive feedback. We look forward to working with Liftsafe on future projects.
Air Canada has purchased a variety of custom access platforms from Liftsafe over the past 10 years. Specifically, Air Canada has multiple Liftsafe Engine Access Stands in service. These units were selected based on their innovative design, safety features and ease of use.

We would highly recommend this product to any company completing regular maintenance on commercial aircraft engines. We find that Liftsafe is more than willing to work with us in creating safe, economical and multi-purpose designed equipment, tailored to our needs.
Learn more about our team and what sets us apart as industry experts in fall protection, ground support and material handling industries.
Dive into the latest netting options our team has to offer. This catalogue will provide a complete overview of our products and services.
Our team is committed to providing the highest level of customer service. If you didn't find the information you were looking for, please contact us.
We offer a huge selection of products and quick quotes for what you're looking for.
Give us a call. Our friendly customer service staff are on hand to help you.