Fall hazards are a major concern when an opening in the floor is not properly protected. According to North American fall protection regulations, such openings must be guarded or covered when not in use. Netting systems are a safe and effective solution that meet or exceed fall protection requirements.
Oil Pit Netting Systems are specifically designed in order to suit your existing service bays and provide a reliable solution with minimal impact on day-to-day operations. Our unique design allows for easy movement of the netting and requires minimal modifications to the existing automotive service pits (some welding of lugs is required to install the cables).
Don't risk expensive fines for compliance violations. Our affordable and reliable system is the solution you need to keep employees and customers safe from potential falls.
Falls from heights and same-level falls can happen anywhere, anytime.

Every year, falls result in a significant number of worker injuries and deaths, particularly in construction. Slips, trips and falls are also one of the leading causes of injuries that result in workers missing time at work. Preventing these injuries is a critical goal of every safe and healthy workplace.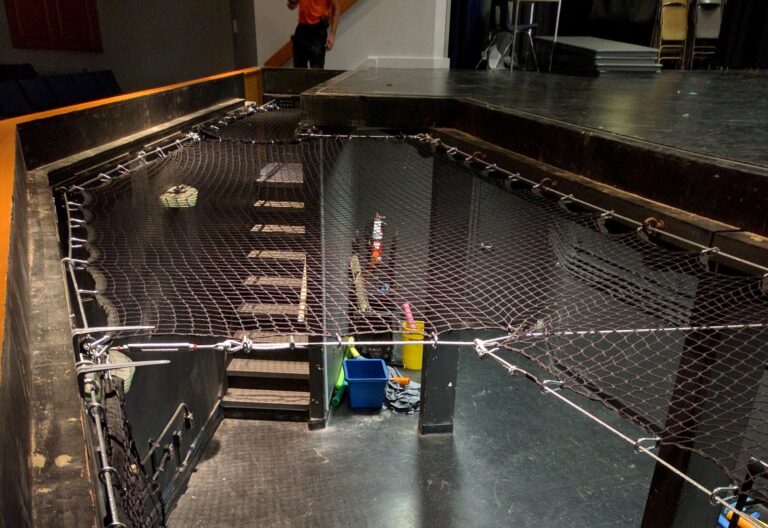 Open pit netting
Open pits require fall protection under both provincial and federal working at heights legislation. These areas can be protected by guardrails or netting systems like the LFP pit netting system. These netting systems are used for floor openings such as orchestra pits or other frequently used areas where guardrails are impractical.
Components
Specifications/Features
Applications
Regulations
CATALOGUE
Components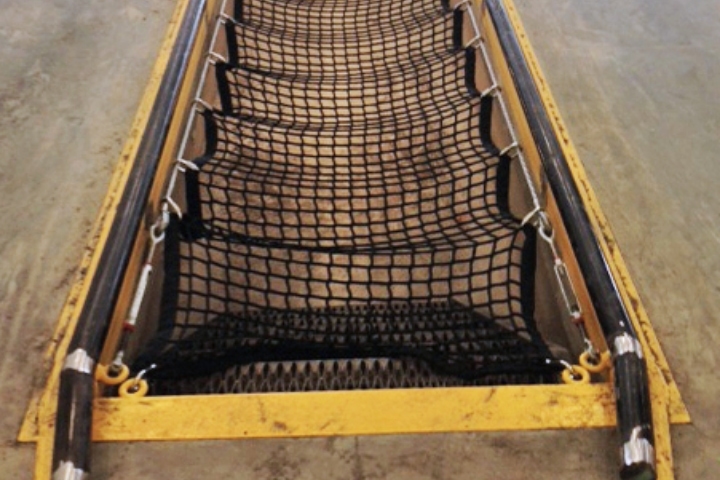 AIRCRAFT CABLE (GALVANIZED CABLE)

1/4" Aircraft cable (7000 lbs breaking strength)

NETTING PANEL

6000 lbs net – 2-½" square

STANDARD RIGGING

Lugs
Wire rope clips
Thimbles
Turnbuckles
Eyebolts
Safety snap hooks
Quick link
Specifications/Features
Applications
Regulations
CATALOGUE
What our clients are saying
Delta Airlines has purchased 17 of the Liftsafe Engine Access Stands, for stations all around our system.

We use them in both the line maintenance and hangar maintenance to accomplish work on the engine and pylons for our wide-body aircraft. These stands are an excellent solution to a longstanding problem - providing fall safety protection in difficult to reach areas. The stands are of high-quality construction and provide a unique solution to a challenging fall safety concern. We would highly recommend this product.
We would like to thank all involved in the design, construction and installation of the horizontal lifeline systems on the lighting grid platforms at Rogers Centre. We also appreciate your recommendations regarding fall arrest and rescue equipment.

The horizontal lifeline system is user-friendly and provides the additional security for workers that we hoped it would. Those who use it have provided positive feedback. We look forward to working with Liftsafe on future projects.
Air Canada has purchased a variety of custom access platforms from Liftsafe over the past 10 years. Specifically, Air Canada has multiple Liftsafe Engine Access Stands in service. These units were selected based on their innovative design, safety features and ease of use.

We would highly recommend this product to any company completing regular maintenance on commercial aircraft engines. We find that Liftsafe is more than willing to work with us in creating safe, economical and multi-purpose designed equipment, tailored to our needs.
Learn more about our team and what sets us apart as industry experts in fall protection, ground support and material handling industries.
Dive into the latest netting options our team has to offer. This catalogue will provide a complete overview of our products and services.
Our team is committed to providing the highest level of customer service. If you didn't find the information you were looking for, please contact us.
We offer a huge selection of products and quick quotes for what you're looking for.
Give us a call. Our friendly customer service staff are on hand to help you.