Custom RoofStep System for Multilevel Access
Product
Custom RoofStep Ladder Series (LD), RoofGuard Classic
Function
RoofStep Ladder Series for multilevel access and RoofGuard Classic for roof edge protection
Custom designed RoofStep fall protection system using two of our standard 6ft RoofStep Kits. This fall protection system enabled our client to access to the roof via a hatch and further access to the level above the hatch and the level below. We provided a two tiered RoofStep system that provided safe access to an inaccessible rooftop application by two tiers of offsetting stairs. The pre-engineered industrial platform and components provide safety compliance right from installation and additional guardrails provide fall protection on both levels.
Each RoofGuard Guardrail System is freestanding and counter-weighted, which means no cutting into the existing roof. RoofGuard systems utilize our nesting baseplate system to ensure optimum weight is allotted at engineered approved points. The railing has no direct or permanent attachment to your roof. No holes means there are no re-sealing worries.
Meets or exceeds all federal and provincial requirements, as well as ANSI and OSHA.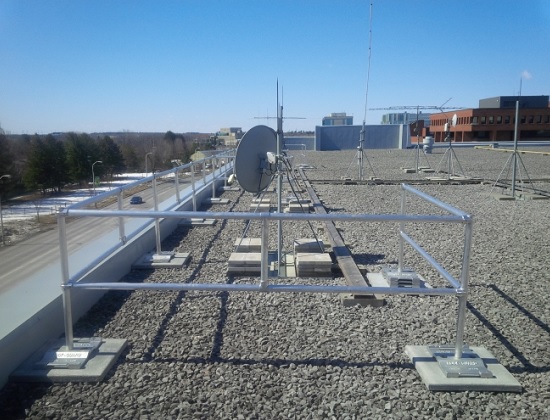 Liftsafe Fall Protection worked with one of our dealers on this large project at Algonquin College. Edge protection was the main focus of this project which aimed to protect maintenance workers who had to service equipment close to the edge of the roof.
View Project
We offer a huge selection of products and quick quotes for what you're looking for
Give us a call. Our friendly customer service staff are on hand to help you.