Fall-related and struck-by-object workplace accidents are the 2nd and 3rd leading causes of job injuries and fatalities. Every day workers are at risk without adequate equipment, training, and prevention systems in place. Our engineered netting systems have been designed and tested for industrial netting applications that meet all required safety measures to reduce injuries and liability.
Designed and tested specifically for industrial, manufacturing, warehouse, and commercial applications, each solution can be custom designed by our engineering team for any configuration.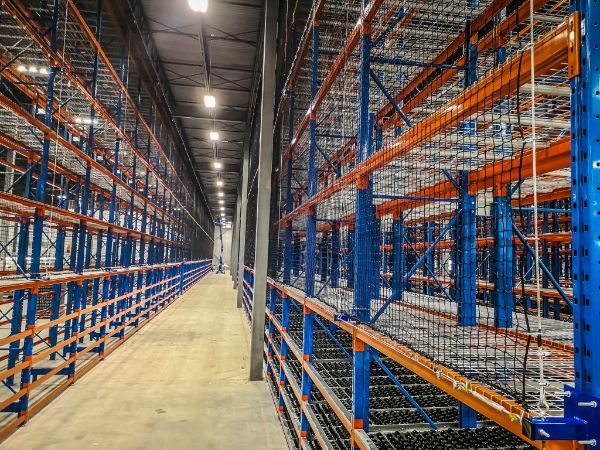 RackGuard netting is a cost-effective, engineered solution designed to make warehouses and industrial racking safer for employees and visitors by creating a "soft-catch" for products that fall from racking.
View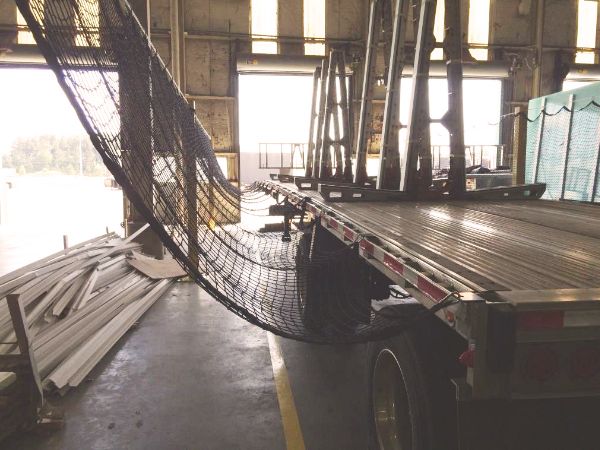 Reasons Why Our Truck Netting is the Solution for you:
Falls off of flatbed trucks during loading and unloading operations are on the rise due in part to irregular materials such as steel, pipe, timber, unbalanced loads, and a lack of knowledge regarding Fall Protection Safety within the industry.
Our systems are designed to eliminate the number of serious accidents whereby personnel is either fatally injured or suffer a significant injury from a fall. Helping you to ensure the safety of your employees.
Why soft catch netting?
Our netting is a soft catch product that absorbs energy as an object falls into it. The system disperses energy from impact point to guard frame, cable, and attachment points. Unlike rigid barriers, our nets are allowed to flex at impact, dissipating energy, and providing less excess force to the netting system itself, keeping your personnel and materials safe.
We meet all your custom product needs from start to finish. Our in-house engineering team will ensure quick sign-off on all custom orders and testing while meeting the exact specifications required for your equipment.
You can expect top-of-the-line products and excellent customer service. From design to implementation, our team will walk you through the process and help you reach the best solution for your equipment needs.
To request a consultation, please click on the link (link to contact form) and someone will be in touch with you to schedule an assessment.
What are the risks?
In 2018 there were 786 fatalities from being struck by a falling object or equipment, 325 were caused by a falling object.
In fact, the top 2 leading causes of workplace injuries in North America are slips, trips and falls and being struck by objects.
137,650 injuries from being struck by falling objects or equipment
16,070 injuries from falls off of trucks
22,020 construction fall injuries
1750 fans injured every year by foul balls in mlb ballparks
What's the cost?
$41,000 per medically consulted injury
$7,277,090,000 in direct costs in 2018 alone
Offer a wide range of high-quality engineered netting solutions to your customers.
What our clients are saying
Delta Airlines has purchased 17 of the Liftsafe Engine Access Stands, for stations all around our system.

We use them in both the line maintenance and hangar maintenance to accomplish work on the engine and pylons for our wide-body aircraft. These stands are an excellent solution to a longstanding problem - providing fall safety protection in difficult to reach areas. The stands are of high-quality construction and provide a unique solution to a challenging fall safety concern. We would highly recommend this product.
We would like to thank all involved in the design, construction and installation of the horizontal lifeline systems on the lighting grid platforms at Rogers Centre. We also appreciate your recommendations regarding fall arrest and rescue equipment.

The horizontal lifeline system is user-friendly and provides the additional security for workers that we hoped it would. Those who use it have provided positive feedback. We look forward to working with Liftsafe on future projects.
Air Canada has purchased a variety of custom access platforms from Liftsafe over the past 10 years. Specifically, Air Canada has multiple Liftsafe Engine Access Stands in service. These units were selected based on their innovative design, safety features and ease of use.

We would highly recommend this product to any company completing regular maintenance on commercial aircraft engines. We find that Liftsafe is more than willing to work with us in creating safe, economical and multi-purpose designed equipment, tailored to our needs.
Learn more about our team and what sets us apart as industry experts in fall protection, ground support and material handling industries.
Dive into the latest netting options our team has to offer. This catalogue will provide a complete overview of our products and services.
Our team is committed to providing the highest level of customer service. If you didn't find the information you were looking for, please contact us.
We offer a huge selection of products and quick quotes for what you're looking for.
Give us a call. Our friendly customer service staff are on hand to help you.