Engineered Fall Protection Systems
Liftsafe Fall Protection (LFP) has an in-house engineering team that consults with clients to develop customized fall protection systems for unique applications that require it. Custom Engineered Fall Protection Solutions can be used for a wide range of applications that can be separated into two different categories. Active and Passive. Passive systems like RoofGuard or Flatbed Truck Netting require no participation or specialized training from an employee. Active systems will require any combination of harnesses, lanyards and up to date training from your employees in order to meet the requirements outlined by the government.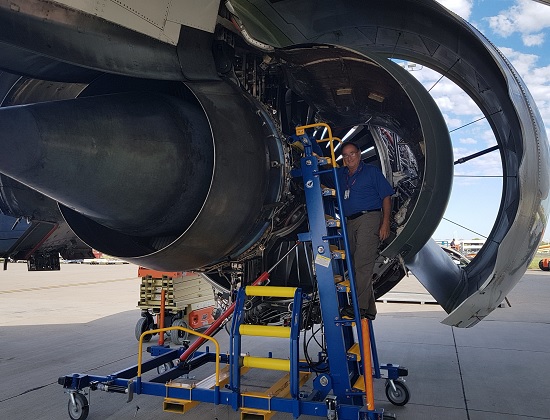 At Liftsafe Fall Protection we have access to a full in-house engineering, design, and fabrication team. We specialize in Aviation and Aerospace Engineered Solutions.
View
At LFP we are focused on collaboration and innovation. Whether you need a custom designed solution, or are simply looking for an "out of the box" product, our process remains laser focused on exceptional service and support.
Collaborate with our engineering team to get your ideas on paper and test for safety and regulatory compliance. Implement the design in the real world and adjust where needed for a perfect fit. Work with us for ongoing support and maintenance after project completion.
We meet all your custom product needs from start to finish. Our in-house engineering team will ensure quick sign-off on all custom orders and testing while meeting the exact specifications required for your facility.
You can expect top-of-the-line products and excellent customer service. From design to implementation, our team will walk you through the process and help you reach the best solution for your facility needs.
To request a consultation, please fill out the form attached to this page and we will reach out to book a consultation that fits into your schedule. You can also contact us directly at:
1. EVALUATE YOUR FALL PROTECTION NEEDS:
Plan ahead to get the job done safely.
Assess areas on your rooftop that require access.
2. ASSESS THE RISKS:
Are my employees or contractors at risk of a fall?
Am I exposing my company to unnecessary fines?
3. IMPLEMENT A SOLUTION:
Provide the right fall protection equipment.
Most jurisdictions require the use of specific fall protection measures before, or in addition to, personal protective equipment (PPE). These measures generally include the use of some of the following:
fixed barriers (e.g., handrails, guardrails),
surface opening protection (e.g., covers, guardrails, etc.),
warning barriers/control zones,
fall or travel restraint systems (i.e., a system to prevent a worker from falling from a work position, or from travelling to an unguarded edge from which the worker could fall),
fall containment system (e.g., safety nets),
fall arrest systems (i.e., a system that will stop a worker's fall before the worker hits the surface below).
There may also be specific legal requirements around use of equipment like ladders and scaffolding.
Occupational health and safety laws generally require action when a worker has the potential to fall about 3 metres (10 feet). In most cases, fall protection is required when:
other means of fall protection are not available or possible, such as guardrails,
working at a height of 3 metres or more (permanent and/or temporary work areas),
working at a height of less than 3 metres when the surface below could cause a greater injury than just the fall (e.g., machinery; risk of drowning in water or other liquid; open tanks, vats, or pits containing hazardous materials; materials that can shift),
a worker may fall through an opening in the work surface,
it is determined that fall protection is necessary.
More information on fall protection can be found at the Canadian Centre for Occupational Health and Safety. 
What our clients are saying
Delta Airlines has purchased 17 of the Liftsafe Engine Access Stands, for stations all around our system.

We use them in both the line maintenance and hangar maintenance to accomplish work on the engine and pylons for our wide-body aircraft. These stands are an excellent solution to a longstanding problem - providing fall safety protection in difficult to reach areas. The stands are of high-quality construction and provide a unique solution to a challenging fall safety concern. We would highly recommend this product.
We would like to thank all involved in the design, construction and installation of the horizontal lifeline systems on the lighting grid platforms at Rogers Centre. We also appreciate your recommendations regarding fall arrest and rescue equipment.

The horizontal lifeline system is user-friendly and provides the additional security for workers that we hoped it would. Those who use it have provided positive feedback. We look forward to working with Liftsafe on future projects.
Air Canada has purchased a variety of custom access platforms from Liftsafe over the past 10 years. Specifically, Air Canada has multiple Liftsafe Engine Access Stands in service. These units were selected based on their innovative design, safety features and ease of use.

We would highly recommend this product to any company completing regular maintenance on commercial aircraft engines. We find that Liftsafe is more than willing to work with us in creating safe, economical and multi-purpose designed equipment, tailored to our needs.
Check to see what federal & provincial regulations for working at heights and fall protection are and which RoofGuard systems help you comply.
Our team is committed to providing the highest level of customer service. If you didn't find the information you were looking for, please contact us.
Learn from the experts about safety topics related to working at heights, warehouse safety and ladder safety. Browse our resource library.
We offer a huge selection of products and quick quotes for what you're looking for.
Give us a call. Our friendly customer service staff are on hand to help you.