RoofWalk (anti-Slip Walkway)
The RoofWalk Walkway is designed to create a sure-footed walkway on your rooftop. This fully customizable platform utilizes non-slip materials and is installed above the roof membrane ensuring no damage is being done while it is being utilized. Utilizing our counterweighted baseplates and RoofGuard guardrails, this system can be tailored to any flat roof or low slope application, providing safer access to any workspace by eliminating slipping and fall hazards. Engineered for safety and built economically, the RoofWalk system is a must on any rooftop where constant roof access is required.
Our rooftop walkway systems are free standing and utilize our counter weighted baseplates, eliminating the need for hardware connections to your rooftop. Combine with RoofStep Crossover and Ladder series to further improve your rooftop accessibility and safety system.
RoofWalk has been designed to meet or exceed all major North American safety standards/regulations including Ontario MOL requirements, ANSI, OSHA, Canadian OHS & WorkSafeBC.
Does your rooftop have Workers Accessing it?
If you answered yes, then fall protection is required as mandated by the below legislation.
MOL Industrial Establishments Regulation 851: Section 13 (1)(a) (1) Subject to subsection (2), there shall be a guardrail.
a) around the perimeter of an uncovered opening in a floor, roof or other surface to which a worker has access.
Components
Specifications/Features
Regulations
CATALOGUE
Components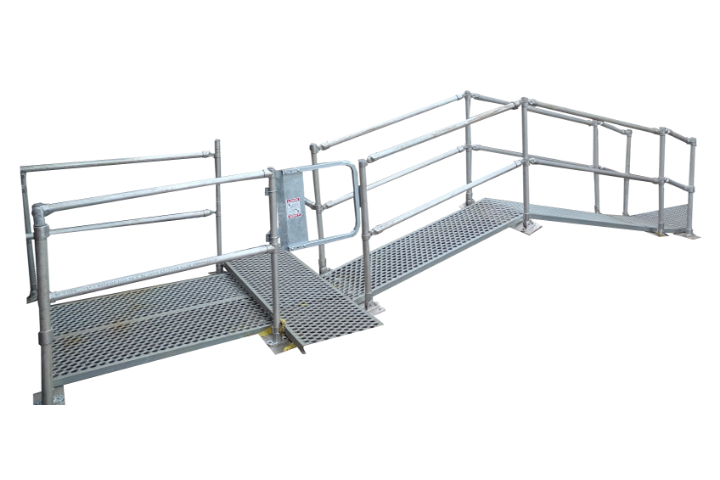 Grated slip resistant walkways
Complete installation manual and layout drawings
Counter weighted baseplates
Rubber mats to protect rooftop membrane
Vertical posts
Horizontal rails
Set Screws
Specifications/Features
Regulations
CATALOGUE
Frequently Asked Questions
Passive Vs Active Fall Protection
When a hazard assessment is completed, and a need for fall protection is established, there are two general types of systems that can solve the need and keep the workers safe, passive or active fall protection.
A "passive" fall protection system refers to a system that is non-dynamic, stationary, and does not move or adapt or change when in or out of use. They do not require the use of Personal Protective Equipment or active participation from the worker. Typical passive solutions include Guardrails or Netting Systems. This is the preferred choice for its ease of use without the need for additional training and PPE.
An "active" Fall Protection System requires the use of special equipment and participation by the worker. There are two types of Active Fall Protection Systems, fall restraint and fall arrest systems. These systems share the common feature of securing the worker wearing a full-body harness to an anchorage point with some type of connecting system, depending on the application. Active Fall Protection Systems include Fall Arrest Anchors, Roof Anchors, and Safety Harness'.
Check to see what federal & provincial regulations for working at heights and fall protection are and which RoofGuard systems help you comply.
Our team is committed to providing the highest level of customer service. If you didn't find the information you were looking for, please contact us.
Learn from the experts about safety topics related to working at heights, warehouse safety and ladder safety. Browse our resource library.
We offer a huge selection of products and quick quotes for what you're looking for.
Give us a call. Our friendly customer service staff are on hand to help you.