Roofstep Parapet Ladders (Ladder and Crossover Platforms)
RoofStep is made up of two unique and innovative parapet ladder systems (ladder and crossover) which enable you to safely move over rooftop elevation changes including parapet walls. These fall prevention systems come in several different standard and custom kits and are designed to have the engineered ladders on the face and back of the parapet walls and a platform over the parapet area in order to help protect the sensitive roof membrane or coping material from damage.

These rooftop platforms and ladders are also designed in order to blend in with the existing roof aesthetics and can be customized in order to have anywhere from one step to several. When coupled with our RoofWalk System and RoofGuard Classic Guardrail System you will have a complete rooftop safety system and ensure the safety of both your roof and workers/contractors.
RoofStep Parapet Ladder systems have been designed to meet or exceed all major North American safety standards/regulations including Ontario MOL requirements, ANSI, OSHA, Canadian OHS & WorkSafeBC.
Does your rooftop have Workers Accessing it?
If you answered yes, then fall protection is required as mandated by the below legislation.
MOL Industrial Establishments Regulation 851: Section 13 (1)(a) (1) Subject to subsection (2), there shall be a guardrail.
a) around the perimeter of an uncovered opening in a floor, roof or other surface to which a worker has access.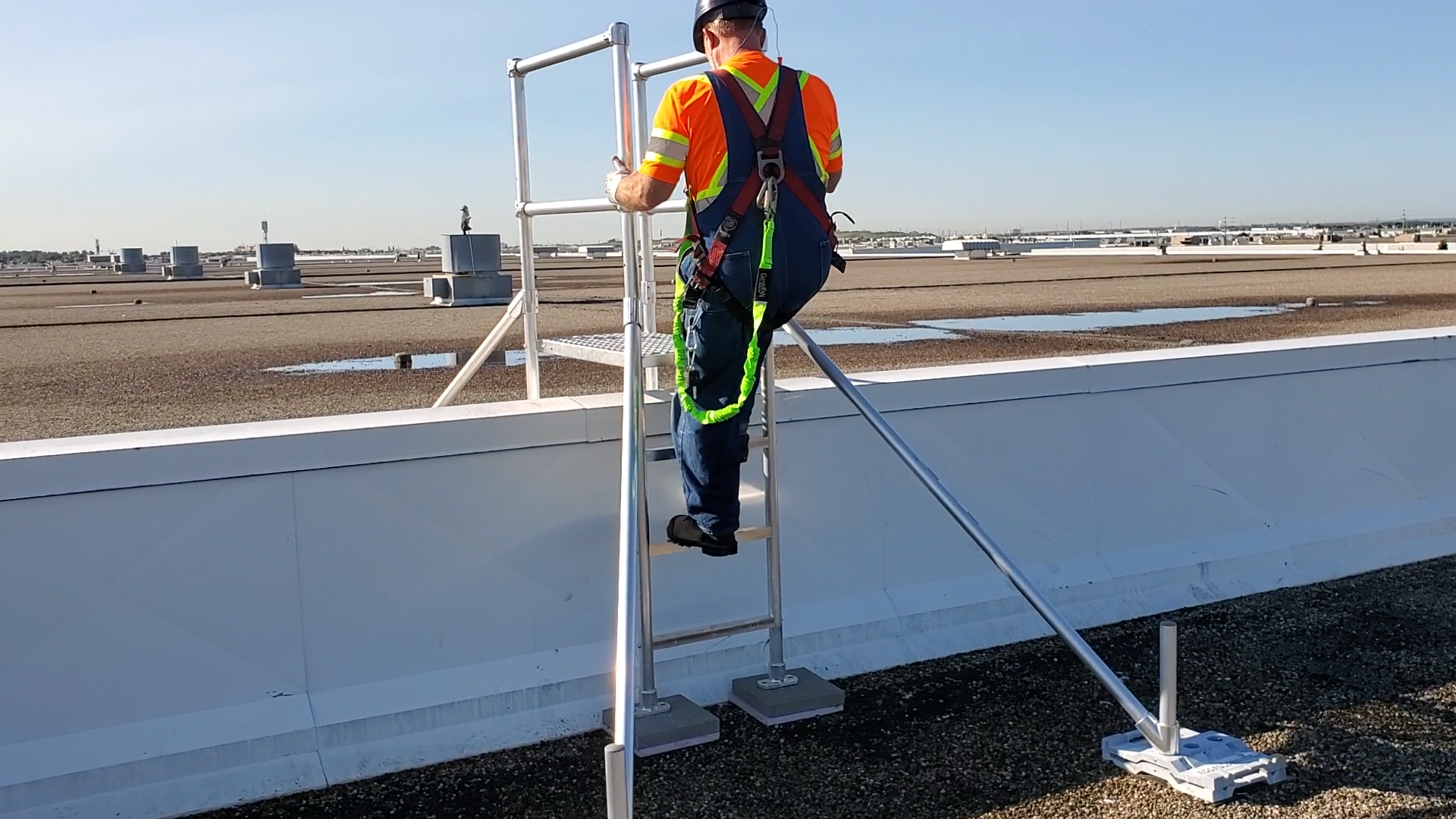 Standard RoofStep Parapet Crossover (XS) Kits
Eliminate the potential of rooftop trip hazards over piping and other rooftop obstructions with RoofStep XS Series. The anti-slip walkway is designed in order to allow workers to safely move over obstructions located on the same roof level.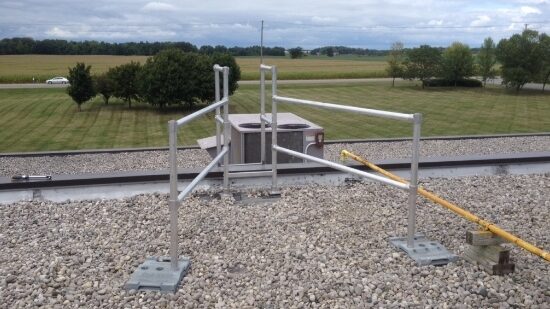 RoofStep Standard Ladder (LD) Series Kits
The RoofStep LD series is a modular system that enables workers to move from one level to another with guardrails on the upper elevation to help prevent a fall to the lower level. Safely scale parapet walls and changes of elevation on your rooftop with this fall protection system.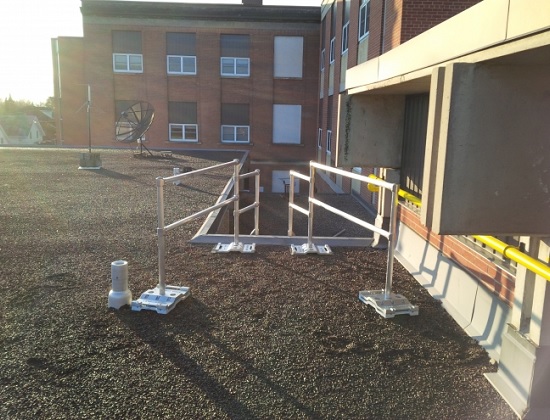 Reasons Why Roofstep parapet ladders are the Solution for You:
Already installed on numerous rooftops, these parapet guardrail systems address a need within the fall prevention industry. All fall prevention kits in the RoofGuard family are counterweighted fall prevention systems. RoofStep provides safe and reliable access over parapet walls and other elevation changes. This fall safety system utilizes our RoofGuard baseplates in order to ensure optimum weight is allotted to all of the engineered approved points, all the while without requiring any drilling into the rooftop, meaning you will not have any resealing worries.
Check to see what federal & provincial regulations for working at heights and fall protection are and which RoofGuard systems help you comply.
Our team is committed to providing the highest level of customer service. If you didn't find the information you were looking for, please contact us.
Learn from the experts about safety topics related to working at heights, warehouse safety and ladder safety. Browse our resource library.
We offer a huge selection of products and quick quotes for what you're looking for.
Give us a call. Our friendly customer service staff are on hand to help you.