XPress Guardrail Series (RoofGuard)
RoofGuard X-Press is a unique, easy-to-install rooftop guardrail system. This rooftop fall protection system is designed with pre-fabricated rail sections that can be installed and dismantled quickly for temporary applications without sacrificing quality, durability, and most importantly, safety.
This one-of-a-kind rooftop guardrail system allows you to create your own rooftop guardrail solution, allowing you to choose how much linear coverage you want to cover, from 8 feet to more than 100 feet and longer.
RoofGuard X-Press comes in two distinct rail lengths; the 8-foot rail length is powder coated in high-visibility safety yellow, and the 6-foot rail sections are powder coated in grey. The 8-foot lengths are designed to go on the roof's leading edge, and the 6-foot guardrail sections are for the returns. The yellow guardrail also serves as a warning sign for workers who get too close to the roof edge, allowing them to always be aware of potential danger.
Just like with all of our RoofGuard products, RoofGuard X-Press uses a counterweight system, which involves no cutting into the existing rooftop surface. The railing thus has no direct or permanent attachment to your roof, meaning no holes and no leaks!
RoofGuard X-Press has been designed to meet or exceed all major North American safety standards/regulations including Ontario MOL requirements, ANSI, OSHA, Canadian OHS & WorkSafeBC.
Death of worker results in $100,000 fine for Ontario Company
A company pleaded guilty to failing to ensure workplace safety standards were met, as outlined in the Ontario Occupational Health and Safety Act.

Companies are required to protect their workers with a guardrail system or another fall prevention method.

The Ontario man succumbed to his injuries and passed away less than two weeks later.

Do the right thing; protect your employees/company with a passive fall protection system.
Reasons Why You Need RoofGuard X-Press
With their unique lightweight design, RoofGuard X-Press Rails are perfect for a variety of applications, both permanent and temporary. This system also allows for you to decide how much coverage you require and ensures that you only have to pay for the guardrail that you need, allowing for you to ensure the safety of your employees and contractors while making sure you only have to pay for the guardrail that you require.
RoofGuard X-Press Ordering Tips
It is important to remember that in order to properly build your system, you first need to purchase the required number of rail pieces. In addition to the rails, there are required accessories that are needed to properly assemble this system. Required accessories include baseplates and rubber pads. Before you place your order, ensure you are aware of the amount of linear coverage you wish to protect to calculate how much of each item you require.
Components
Specifications/Features
Applications
Regulations
CATALOGUE
SPECIFICATION SHEET
Components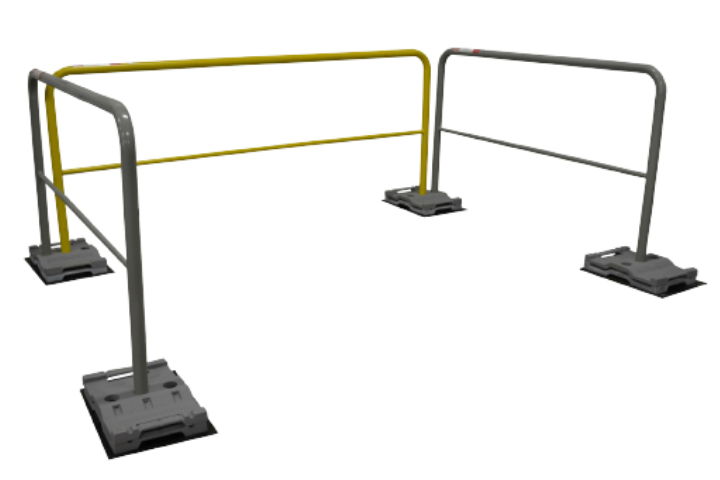 Yellow pre-assembled guardrail
Grey pre-assembled guardrail
Rubber pads
Fasteners: stainless steel
Specifications/Features
Applications
Regulations
CATALOGUE
SPECIFICATION SHEET
Frequently Asked Questions
The Hierarchy of Fall Protection Solutions
Check to see what federal & provincial regulations for working at heights and fall protection are and which RoofGuard systems help you comply.
Our team is committed to providing the highest level of customer service. If you didn't find the information you were looking for, please contact us.
Learn from the experts about safety topics related to working at heights, warehouse safety and ladder safety. Browse our resource library.
We offer a huge selection of products and quick quotes for what you're looking for.
Give us a call. Our friendly customer service staff are on hand to help you.