Four step RoofStep Ladder for Access over Parapet Wall
Product
RoofStep Ladder Series (LD)
Function
Access over parapet wall
This RoofStep system was installed on this education client's roof to provide safe and reliable access over parapet walls. The system utilizes our baseplate system to ensure optimum weight is alloted at engineered approved points (with no penetration of the rooftop) to create a counterweight. This provides a passive system that enables safe entry and exit over the parapet wall.
Sizing can be customized for your specific needs as every roof poses unique challenges. As with all our RoofGuard Line of products, this portable system allows users the flexibility to place the RoofStep where they need it to provide passive fall protection that meets all federal and provincial regulations without the need for extra training and PPE.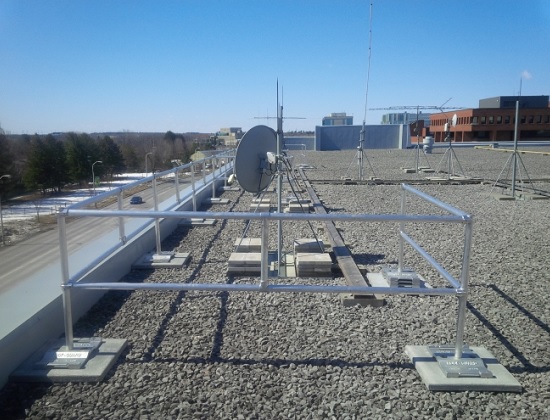 Liftsafe Fall Protection worked with one of our dealers on this large project at Algonquin College. Edge protection was the main focus of this project which aimed to protect maintenance workers who had to service equipment close to the edge of the roof.
View Project
We offer a huge selection of products and quick quotes for what you're looking for
Give us a call. Our friendly customer service staff are on hand to help you.