Hatch Guardrail (RoofGuard)
Our Roof Hatch Guardrail System (HatchGuard), also known as a Roof Hatch Safety Rail, is a freestanding guardrail system, which is non-penetrating and safely protects open roof hatches and skylights. HatchGuard's simplicity allows for our system to be integrated with virtually any rooftop opening. Our Roof Hatch System comes standard with a spring-loaded gate, ensuring the HatchGuard is in a safe operating position at all times.

Heavily mandated by governing bodies, rooftop openings such as roof hatches and skylights are two focal points that require fall prevention solutions to be implemented.


RoofGuard has been designed to meet or exceed all major North American safety standards/regulations including Ontario MOL requirements, ANSI, OSHA, Canadian OHS & WorkSafeBC

.
Why our Hatchguard systems are the right Solution for you:
The simplicity of HatchGuard allows for this system to be integrated with virtually all roof openings. Designed to fit into a single crate, most parts are pre-assembled with easy-to-follow instructions and a single tool for installation. This freestanding, modular system is constructed with corrosion-resistant lightweight aluminum tubing and utilizes counter-weighted baseplates. It requires no rooftop penetration, which will help to make sure that your roof will remain intact, so you will not have to worry about any unexpected leaks occurring from using this system.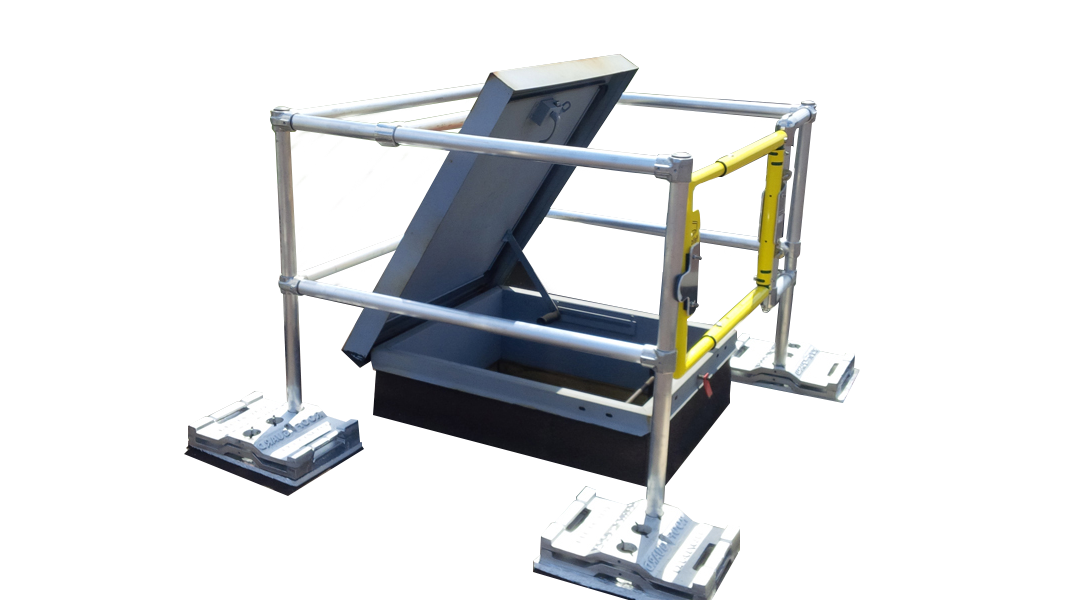 HatchGuard comes in a unique kit format which is designed to fit most rooftop hatch openings. With 4' x 4' of aluminum handrail tube and a 4ft self-closing gate, you will be able to keep both employees and contractors safe when they enter and exit your rooftop.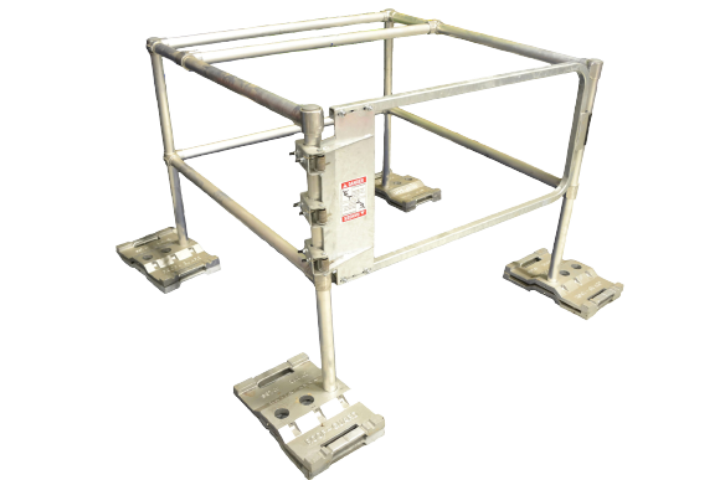 Some rooftop hatches are unique in design, whether they are larger than the average rooftop hatch or because they are unique in design; which is why we offer the option for custom 4' x 6' HatchGuard systems.

ROOFGUARD HATCH GUARDRAIL, HATCHBAR
Allow your contractors and employees to safely enter and exit your rooftop hatch with the addition of a hatch bar. These roof hatch grab bars mount directly to the frame of the hatch and act as a single point of assistance. With the addition of this roof hatch grab bar, your entry onto rooftops will be both quick and safe. This accessory is designed to work on all makes and models of roof hatches and has been rigorously tested to meet stringent weight and durability requirements.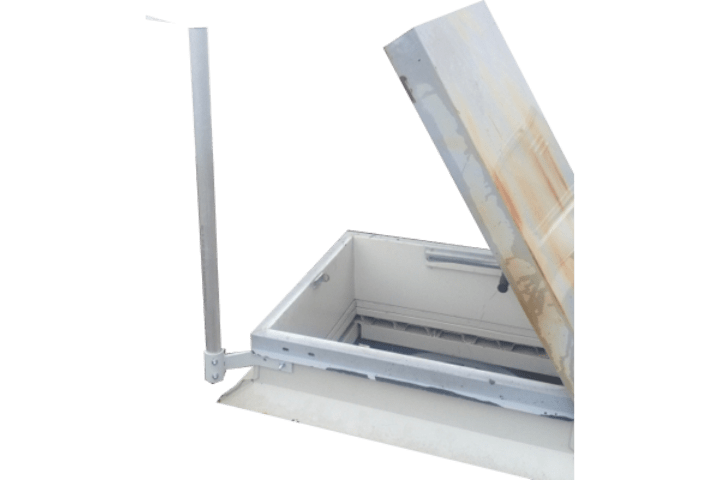 COMPONENTS
Specifications
Features
Regulations
Resources
SPECIFICATION SHEET
COMPONENTS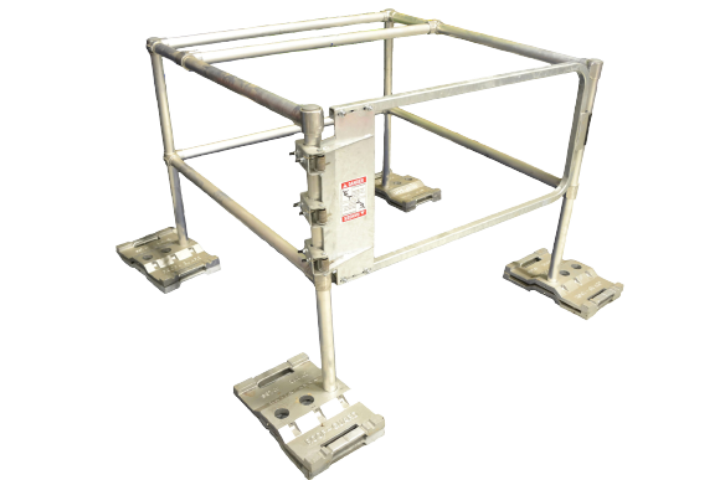 Singular tool supplied for assembly
Complete installation manual and layout drawings
8 counter weighted baseplates
4 rubber mats to protect rooftop membrane
4 pre-assembled vertical posts
7 horizontal rails
Set Screws
All parts and materials are supplied on a single pallet
Custom hatch systems are available upon request
Specifications
Features
Regulations
Resources
SPECIFICATION SHEET
Frequently Asked Questions
Check to see what federal & provincial regulations for working at heights and fall protection are and which RoofGuard systems help you comply.
Our team is committed to providing the highest level of customer service. If you didn't find the information you were looking for, please contact us.
Learn from the experts about safety topics related to working at heights, warehouse safety and ladder safety. Browse our resource library.
We offer a huge selection of products and quick quotes for what you're looking for.
Give us a call. Our friendly customer service staff are on hand to help you.