Warning barriers and bump lines prevent falls by alerting workers to fall hazards. Warning barriers and bump lines should be set up around the work area at least 2 metres (6 feet 6 inches) from unprotected edges.
When a work area is enclosed by properly installed and maintained warning barriers or bump lines, work inside the area can be done without additional fall protection measures. But anyone outside the area who is working less than 2 metres from the edge must use approved fall protection.
Death of worker results in $100,000 fine for Ontario Company
The Company pleaded guilty to failing to ensure workplace safety standards were met, as outlined in the Ontario Occupational Health and Safety Act.

Companies are required to protect their workers with a guardrail system or another fall prevention method.

The Ontario man succumbed to his injuries and passed away less than two weeks later.

Do the right thing; protect your employees/company with a passive fall protection system.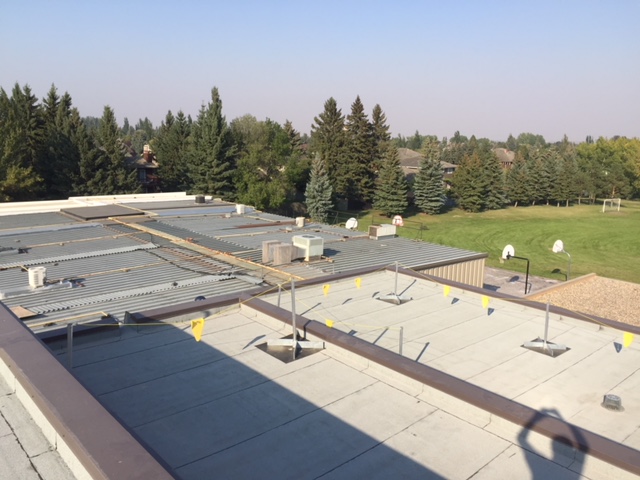 Why RoofGuard Warning Line Systems are an Ideal Solution:
These warning line systems are designed for accessing areas of a flat rooftop that are nearing the roof edge (but not within 2m) to provide a visual warning to workers that are approaching a hazard. The system is freestanding, eliminating the need to pierce the roofing membrane, exposing the system to leaks.
Components
Specifications
Features
Regulations
Components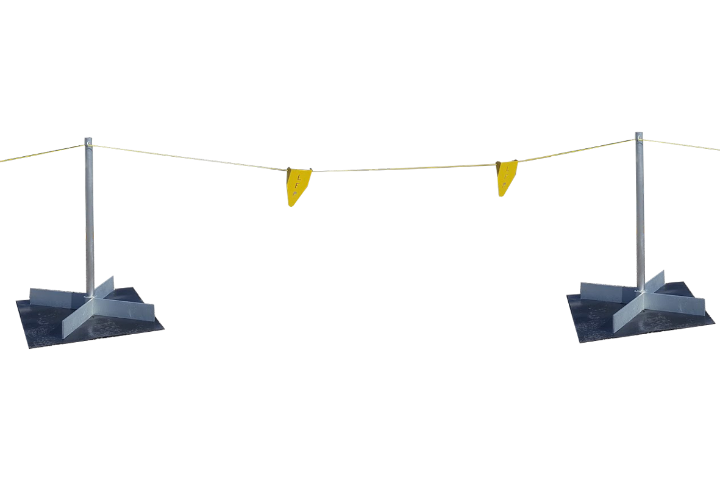 Baseplates – X shaped base
Post – 42' vertical pipe inserted in base plates to support cable and flags
Cable – 500 lbs. breaking strength
Flags – secured at no more than 6 ft intervals
Specifications
Features
Regulations
Frequently Asked Questions
The Hierarchy of Fall Protection Solutions
Check to see what federal & provincial regulations for working at heights and fall protection are and which RoofGuard systems help you comply.
Our team is committed to providing the highest level of customer service. If you didn't find the information you were looking for, please contact us.
Learn from the experts about safety topics related to working at heights, warehouse safety and ladder safety. Browse our resource library.
We offer a huge selection of products and quick quotes for what you're looking for.
Give us a call. Our friendly customer service staff are on hand to help you.