Landing Gear Access Stand built for 747 Aircraft
Product
Landing Gear Access Stand
Client
International Airport
Function
Multi-purpose aviation maintenace
The Landing Gear Access Stand (DF071592-03) is being fit tested with a large 747 operator. The stand is engineered to integrate within the main and nose wheel wells with or without the wheel assemblies installed. The stand is adjustable laterally on bearing rails for access within the configuration of the gear in the down-and-locked position. The aluminum construction and ability to do a quick height adjustment makes this stand easily used by one aircraft technician. The ATACS bumper pads as well as the Rubber D bumper pads ensure the aircraft, landing gear and door and associated wheel well is protected during use and placement.
The Landing Gear Access Stand contains anti-fatigue and anti-slip ladder rungs as well as secondary locks for height and lateral positioning. Additionally, the stand contains fall restraint anchorage on the upper ladder.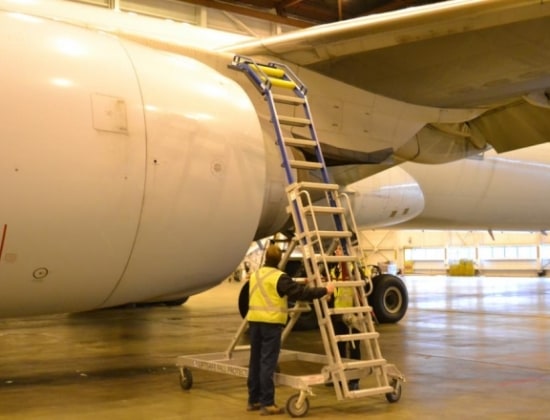 Tested and operational at Air Canada; the Engine Access Stand has received exceptional reviews as this aircraft safety solution solved for the clients need to (a) immediately address their safety concerns (b) offer minimal impact to their hangar footprint and (c) could be easily moved/stored by one employee.
View Project
We offer a huge selection of products and quick quotes for what you're looking for
Give us a call. Our friendly customer service staff are on hand to help you.