Landing Gear Access Stand built for Wide Body Aircraft
Product
Landing Gear Access Stand
Function
Landing Gear Maintenance
This Landing Gear Access Stand was engineered for specific landing gear access tasks, and has proven itself in many other maintenance inspection and technical operation scenarios. This stand is tested and operational on the 767-300 aircraft demonstrating safety compliance and flexibility. The unit has been designed and tested on all Boeing wide body aircraft, is compatible with the Airbus wide body family, as well as the B757 both in the main and nose gear positions.
The unit has proven effective in various fuselage access requirements of the B737. The hydraulic height adjustment, one hand lateral operation and full swivel and lock casters allow single technician placement and use, ensuring the aircraft and technician's safety by design.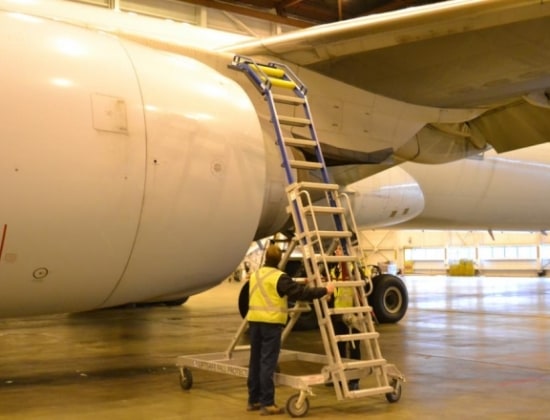 Tested and operational at Air Canada; the Engine Access Stand has received exceptional reviews as this aircraft safety solution solved for the clients need to (a) immediately address their safety concerns (b) offer minimal impact to their hangar footprint and (c) could be easily moved/stored by one employee.
View Project
We offer a huge selection of products and quick quotes for what you're looking for
Give us a call. Our friendly customer service staff are on hand to help you.