RoofGuard Custom Mezzanine Guardrail System for multilevel metal deck roof
Product
RoofGuard Custom Mezzanine Guardrail
Industry
Multilevel silo and manufacturing facility
Function
Working at heights edge protection on multilevel metal decking, ladder egress and ingress
Liftsafe Fall Protection recently completed a custom rooftop guardrail project for a facility in Alberta which is permanently secured to multilevel metal deck platforms on their roof. This custom rooftop guardrail system was designed to keep maintenance workers safe while working on the rooftop. LFP offers custom rooftop guardrail systems for instances such as; when a rooftop requires more coverage than what is available in a rooftop guardrail kit, when the rooftop has a unique layout and needs a more customized solution or when roof configurations don't allow for counterweighted guardrails.
By investing in a custom rooftop fall protection system this Alberta company wanted to ensure their rooftop has optimal coverage to fully protect employees and contractors working at heights. Custom systems can include anything from a rooftop safety railing system across an entire rooftop, to building a rooftop guardrail system around fixed access ladders in order to allow for easy and safe egress and ingress on your rooftop.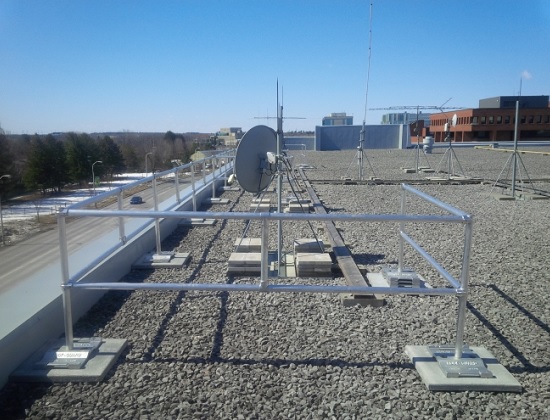 Liftsafe Fall Protection worked with one of our dealers on this large project at Algonquin College. Edge protection was the main focus of this project which aimed to protect maintenance workers who had to service equipment close to the edge of the roof.
View Project
We offer a huge selection of products and quick quotes for what you're looking for
Give us a call. Our friendly customer service staff are on hand to help you.