RoofGuard Standard 27 foot Standard Guardrail Kit
Product
RoofGuard Classic 27 ft. Kit
Function
Edge Protection for Rooftop HVAC Equipment on a steel roof
The twenty-seven foot RoofGuard Fall Protection Guardrail Kit offers twenty-seven feet of leading edge protection with two six foot sections for weighted ballast. The hinged, variable fitting in the centre of the twenty-seven foot section allows for complete versatility when setting the system up. It can be straight, at ninety degrees or anything in between, depending on the configuration of your rooftop. With variable fittings between sections allowing for flexibility during installation and pre-assembled vertical posts, it takes the complexity out of assembly and installation. We supply a complete installation manual and the singular tool required for the assembly of this rooftop guardrail system. These systems come pre-engineered in a single pallet.
Our free-standing, portable, modular systems are constructed with corrosion resistant lightweight aluminum tubing and utilize counter-weighted base plates, no roof penetration is required meaning your roof remains intact. Our unique, low profile, stackable base plate design (only 40 lbs.) with a built-in carrying handle allows for easy, ergonomically friendly installation. Our system meets or exceeds Canadian federal and provincial requirements, ANSI and OSHA.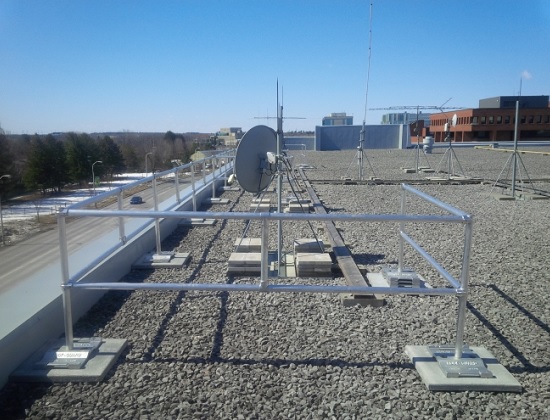 Liftsafe Fall Protection worked with one of our dealers on this large project at Algonquin College. Edge protection was the main focus of this project which aimed to protect maintenance workers who had to service equipment close to the edge of the roof.
View Project
We offer a huge selection of products and quick quotes for what you're looking for
Give us a call. Our friendly customer service staff are on hand to help you.