Warning Line System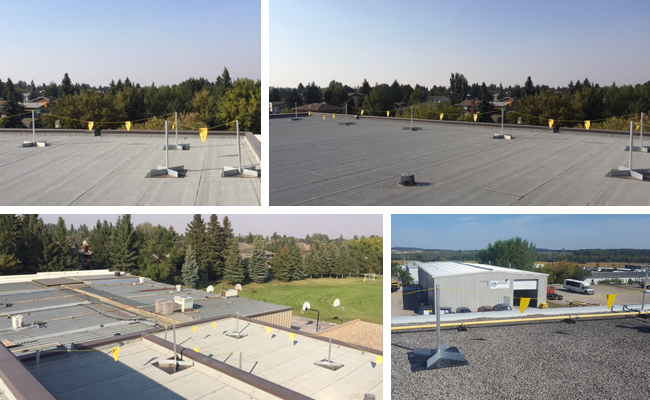 Warning barriers and bump lines prevent falls by alerting workers to fall hazards. Warning barriers and bump lines should be set up around the work area at least 2 metres (6 feet 6 inches) from unprotected edges.
When a work area is enclosed by properly installed and maintained warning barriers or bump lines, work inside the area can be done without additional fall protection measures. But anyone outside the area who is working less than 2 metres from the edge must use approved fall protection.
Warning Line Features and Benefits:
All of our rooftop safety systems meet or exceed all major North American governing bodies' fall protection requirements.
Don't let safety take a back seat, ensure the safety of both your employees/contractors and your rooftop with this warning line system.
Designed to be a temporary warning line system for when work is occurring on the rooftop.
These rooftop warning line systems can be utilized on a variety of applications from warning about upcoming the roof edges to skylights.
These fall prevention systems create a protective boundary around the roof in order to prevent damage from occurring to the roof membrane.
These warning linen systems are designed to be able to be installed easily.
Why RoofGuard Warning Line Systems are an Ideal Solution: 
These warning line systems are designed for accessing areas of a flat rooftop that are nearing the roof edge (but not within 2m) to provide a visual warning to workers that are approaching a hazard. The system is freestanding, eliminating the need to pierce the roofing membrane, exposing the system to leaks.  
Latest News
10 Common Rooftop Safety Hazards > 
Fall Prevention for Solar Panel Maintenance Workers >
How to Be Safe During Rooftop Maintenance >