RoofWalk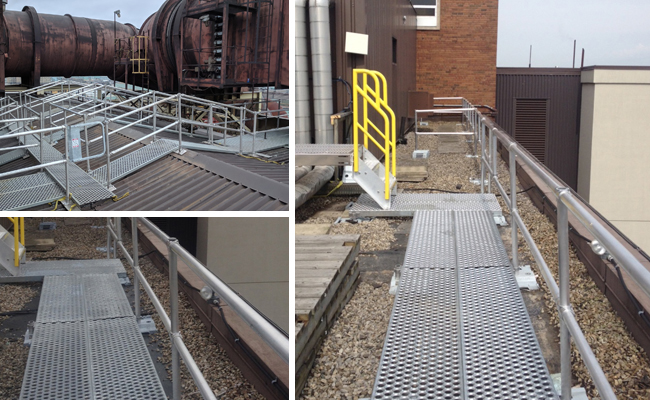 The RoofWalk system is designed to create a sure-footed walkway on your rooftop. This fully customizable platform utilizes non-slip materials and is installed above the roof membrane ensuring no damage is being done while it is being utilized. Utilizing our counter weighted baseplates and RoofGuard rails, this system can be tailored to any flat roof application, providing safer access to any workspace by eliminating slipping and fall hazards. Engineered for safety and built economically the RoofWalk system is a must on any rooftop where constant roof access is required.
Our rooftop walkway systems are free standing and utilize our counter weighted baseplates, eliminating the need for hardware connections to your rooftop. When coupled with our RoofGaurd Classic guardrails, this system is able to protect workers/contractors from potential falls and trip hazards.
RoofWalk has been designed to meet or exceed all major North American safety standards/regulations including Ontario MOL requirements, ANSI, OSHA, OHSA & WorkSafeBC.
RoofWalk Features and Benefits:
| | | | | | | |
| --- | --- | --- | --- | --- | --- | --- |
| | | | | | | |
| Don't let safety take a back seat, ensure the safety of both your employees/contractors and your rooftop with this rooftop work platform. | | Ensure the safety of both your employees and contractors with these rooftop walkway systems which will help to ensure work is conducted safely on the rooftop. | | This rooftop walkway system is designed in order to be non-penetrating, as well as free-standing | | All of our rooftop guardrail systems meet or exceed all major North American governing bodies fall protection requirements. |
| | | | | | | |
| These rooftop work platform systems are designed in order to be able to quickly and easily be assembled. | | These fall prevention systems create a protective boundary around the roof in order to prevent damage from occurring to the roof membrane. | | These rooftop walkway systems are designed in order to help prevent accidents from occurring on your rooftop. | | Designed in order to be a permanent solution this roof walkway system is also fully modular, and can be taken down, moved and reconstruct as needed. |

RoofWalk Options:
| | | | |
| --- | --- | --- | --- |
| RoofWalk System | | | RoofWalk is a completely customizable line of products that provide a safe surface for regular rooftop access. Our rooftop walkway systems are designed to work with your specific roof; ensuring areas that require access are protected. |
Reasons Why RoofWalk is the Solution for You: 
Rooftop walkway system requires no roof penetration and can be set up easily on most roof surfaces. When it is coupled with our RoofGuard Classic guardrails, these systems are able to ensure optimum safety for workers and contractors on the rooftop as these fall prevention devices are able to protect you from both fall and trip hazards.
Why our Fall Prevention Systems are Right for You:
| | | | | | | |
| --- | --- | --- | --- | --- | --- | --- |
| | | | | | | |
| All of the RoofGuard products are a cost-effective fall prevention solution. | | All of our rooftop guardrail systems are designed in order to meet or exceed all North American Safety Standards. | | With the addition of one of our rooftop fall prevention devices, you will be able to reduce PPE and training requirements of your staff and contractors. | | All of our rooftop guardrail systems are safe and reliable fall prevention solutions. |
|   | | | | | | |
| Designed in order to be easily installed, many of our rooftop fall prevention systems can be installed with a single tool. | | These fall prevention devices will help protect your employees from injury or death. | | With the addition of a rooftop guardrail system, you will be able to reduce the potential for costly fines. | | Every single one of the individual components used within these rooftop guardrail systems weighs under 40lbs. |
Fall Prevention Resources:
What is the difference between a Passive and an Active Fall Protection System >
How our product complies/exceeds working at heights legislation/training requirements >
How we stack up against the competition. Literally >
Shipping and Storage made easy. How RoofGuard Kits reduce install time and save you money >
Latest News
10 Common Rooftop Safety Hazards > 
Fall Prevention for Solar Panel Maintenance Workers >
How to Be Safe During Rooftop Maintenance >