RoofGuard Classic Guardrail Systems for edge protection, HatchGuard for floor openings
Product
RoofGuard Classic Guardrail System, HatchGuard Guardrail System
Function
Protection around mechanical equipment on a roof, protection around a rooftop hatch opening
This rooftop guardrail system was installed on the roof of a manufacturing facility in Guelph, Ontario. We supplied and installed both a HatchGuard Kit and RoofGuard Classic System to protect workers accessing the rooftop for maintenance of equipment and to protect workers from entering and exiting the rooftop hatch. RoofGuard Classic guardrail system is a free-standing and non-penetrating system, designed to eliminate the potential hazard from rooftop falls while working at heights. With simplicity in mind when developed, this rooftop guardrail system can be assembled and installed onto most rooftops quickly and easily.
HatchGuard is a freestanding floor and rooftop opening protection system specific for hatches, which is also non-penetrating. The simplicity of HatchGuard allows this system to be integrated with virtually all roof openings. HatchGuard systems come standard with a spring loaded gate to ensure that this fall prevention system provides safe operation, with an automatically closed position to prevent falls. Our engineering team designed RoofGuard and HatchGuard with a modular designs which allow for simple installation that requires no welding, drilling or bolting into the actual roof structure.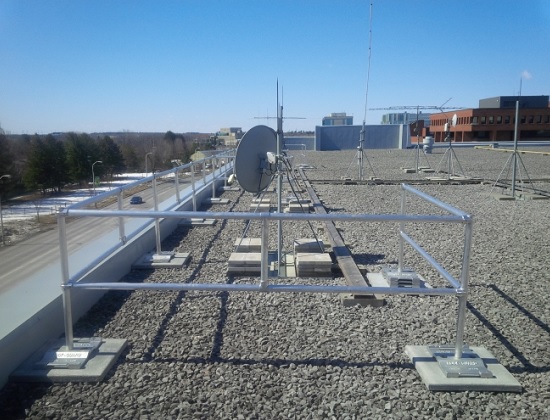 Liftsafe Fall Protection worked with one of our dealers on this large project at Algonquin College. Edge protection was the main focus of this project which aimed to protect maintenance workers who had to service equipment close to the edge of the roof.
View Project
We offer a huge selection of products and quick quotes for what you're looking for
Give us a call. Our friendly customer service staff are on hand to help you.