Custom Rooftop Guardrail Systems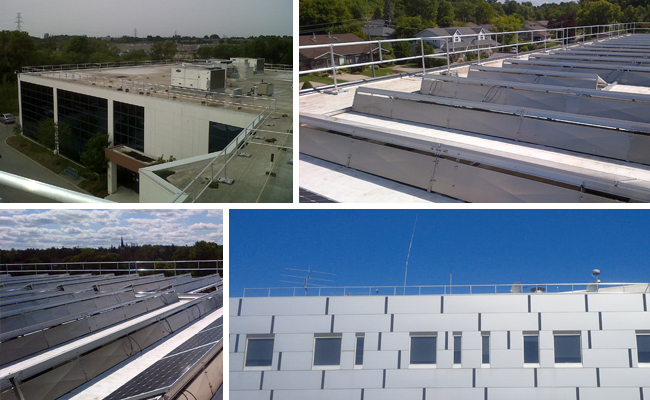 We offer custom rooftop guardrail systems for instances such as: when a rooftop requires more coverage than what is available in a rooftop guardrail kit or when the rooftop has a unique layout and needs a more customized solution.
By investing in a custom rooftop fall prevention system you are ensuring that your company's rooftop has optimal coverage to fully protect employees working at heights. Custom systems can include anything from a rooftop safety railing system across your entire rooftop, to building a rooftop guardrail system around your fixed access ladder in order to allow for easy and safe egress and ingress onto your rooftop.
All of our Rooftop Fall Prevention Systems are made with the same products; so you can be assured that your system will be durable, reliable and require no rooftop penetration.
RoofGuard has been designed to meet or exceed all major North American safety standards/regulations including Ontario MOL requirements, ANSI, OSHA, OHSA & WorkSafeBC.
Custom Guardrail Features and Benefits:
| | | | | | | |
| --- | --- | --- | --- | --- | --- | --- |
|   | | | | | | |
| Don't let safety take a back seat, these custom rooftop guardrail systems will allow you to ensure the safety of your employees around almost any hazard. | | When properly installed these guardrail systems are often not as noticeable as other fall prevention guardrail system when looking at them from the ground. | | These fall prevention systems create a protective boundary around the hazard without causing any damage to the roof or roof membrane. | | All of our rooftop guardrail systems meet or exceed all major North American governing bodies fall protection requirements. |
| | | | | | | |
| --- | --- | --- | --- | --- | --- | --- |
|   | |   | | | | |
| These guardrail systems are designed in order to be able to quickly and easily be assembled. | | Not only is this system non-penetrating, but it is also a free-standing. | | These rooftop guardrail systems can be utilized on a variety of applications including being used to offer full rooftop coverage. | | All of our guardrail systems are able to be installed easily and use a single tool for assembly. |
Custom Rooftop Guardrail Protection Specifications:
Corrosion resistant aluminum tubing
1.5" Schedule 40 handrail tube
Aluminum or Galvanized fittings to resist corrosion
Minimal tools required for assembly
Custom colours available to match existing structure
These rooftop guardrail systems can be custom fit around obstructions
Fittings can accommodate sloped roof sections up to 5% grade
Extra heights available for moderately elevated work near an edge
Clamps are available to add-on to the existing railing where it is not high enough or needs to be cut for access
Self-weighted bases are portable and allow simple, non-penetrating installation to the rooftop.
Fixed base sockets are also available for bolt-on applications
Custom Rooftop Guardrail Options:

These custom rooftop guardrail systems allow for you to ensure the safety of your staff and contractors, even around unique obstructions that may be located on your rooftop.

An example of a rooftop guardrail system being used in a custom application would be ensuring optimum protection of your employees/contractors by installing a complete perimeter barrier around the entire roof edge.
Reasons Why You a Custom Fall Prevention Solution Might be Right for You: 
The number of different ways an accident can occur on a rooftop is endless, but one of the number one reasons for workplace injuries are falls. Sometimes a more custom fall prevention solution is required in order to ensure that all of your employees/contractors will be as safe as possible when working on the rooftop; which is why we offer the option of a custom fall prevention system for those who either wish to have complete coverage on their rooftop and want to install a guardrail system along the entire border of their rooftop and for those who have a unique fall prevention need.
Why our Fall Prevention Systems are Right for You:
| | | | | | | |
| --- | --- | --- | --- | --- | --- | --- |
| | | | | | | |
| All of the RoofGuard products are a cost-effective fall prevention solution. | | All of our rooftop guardrail systems are designed in order to meet or exceed all North American Safety Standards. | | With the addition of one of our rooftop fall prevention devices, you will be able to reduce PPE and training requirements of your staff and contractors. | | All of our rooftop guardrail systems are safe and reliable fall prevention solutions. |
|   | | | | | | |
| Designed in order to be easily installed, many of our rooftop fall prevention systems can be installed with a single tool. | | These fall prevention devices will help protect your employees from injury or death. | | With the addition of a rooftop guardrail system, you will be able to reduce the potential for costly fines. | | Every single one of the individual components used within these rooftop guardrail systems weighs under 40lbs. |
Latest News
10 Common Rooftop Safety Hazards > 
Fall Prevention for Solar Panel Maintenance Workers >
How to Be Safe During Rooftop Maintenance >