RackGuard Netting Systems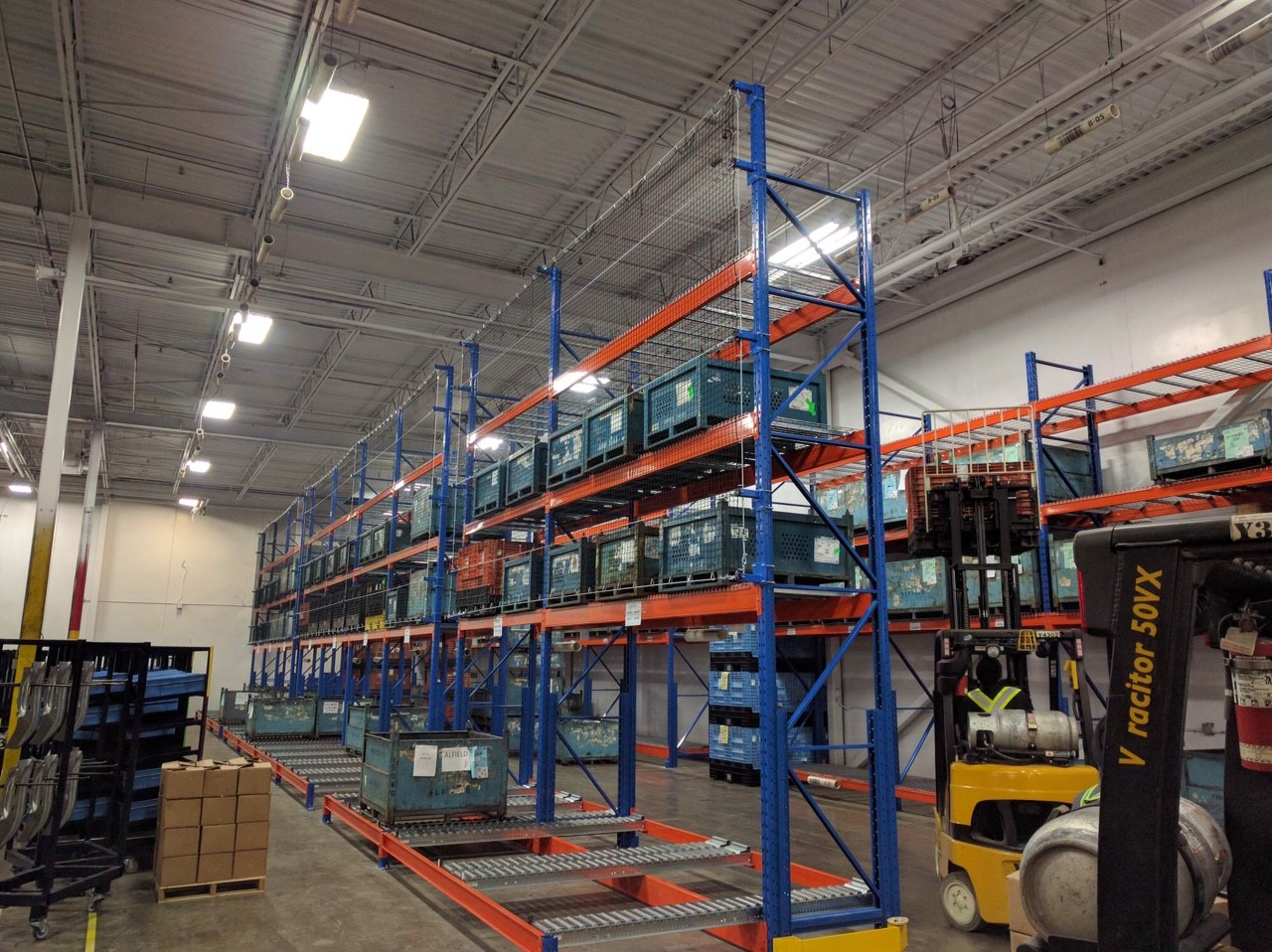 RackGuard netting is a cost-effective, engineered solution designed to make warehouses safer for employees and visitors alike. RackGuard is installed on the back of storage racking to protect aisle ways, work areas and machinery from products that may become dislodged and fall to the ground below.
RackGuard is an engineered "system" consisting of load-rated netting panels, custom engineered offset brackets, engineered frame extensions (when needed), aircraft cable and related rigging hardware. The netting panels are custom made to size to accurately fit each and every different racking layout. Netting panels that are made-to-measure will provide the safest option for back-of-rack protection. RackGuard netting systems have been designed and tested specifically for industrial racking applications. RackGuard has different netting materials for different load requirements depending on pallet load weights.
Below are our RackGuard Netting Systems: 
Standard Offset RackGuard Netting System

RackGuard netting systems typically use Engineered offset brackets to run the cables and allow the netting panels to be installed a certain distance from the face of the racking. This allows for pallet/product overhang. Standard offsets have an allowance for 4" or 6" settings, but offsets are available in sizes ranging from 2" up to 12".

Flushmount RackGuard Netting System 

These RackGuard netting systems are designed to protect employees from falling product. The netting of these systems sits flush to the racking system, helping to ensure that no product will fall. Ideal for applications where there is no pallet overhang or product is loaded by hand.

RackGuard Netting System with Frame Extensions

With the emphasis on utilizing as much warehouse space as possible, companies are storing product higher on their racks. In circumstances where the upper load beam is at or near, the top of the rack frame, Engineered frame extensions are available to increase the height of the frame and allow netting protection for products on the upper load beam.

Flue Space Netting

Product damage and loss as a result of falling into the flue space between racking is a growing issue - one that costs companies a lot of money. Installing a netting system in the flue space will help reduce this product loss.

Horizontal Rack Netting Systems

Our horizontal rack netting systems are designed to ensure the safety of workers who have to enter racking bays to access product and are at risk of having a box fall from an upper level. They are also used in tunnel applications in racking setups.

Pic Mod Safety System

These custom engineered systems consist of special extruded aluminum safety rail and trolleys that are installed on elevated levels of mezzanines and pic modules. The worker can tie-off to the trolley with a harness and lanyard to allow them to enter the bay to retrieve a product without allowing them to get to the edge (preventing a potential fall).

Additional Netting Resources
Latest News