Vertical Barrier Netting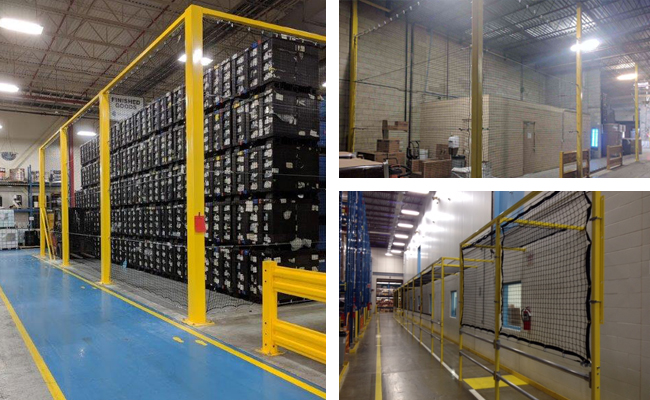 As warehouses grow in size, and space is at a premium, more companies are forced to maximize storage of product by using up available "air" space. Bulk stacking of products is becoming more prevalent in industries such as Automotive and Distribution.
Stacking product maximizes vertical space but now presents a big safety risk. Bulk stacking does not utilize storage racking. Rather it is simply boxes stacked on top of boxes or storage bins stacked on top of storage bins. Typically these are stacked close to walkways or work areas. In the event that one of these stacks collapses or is knocked over by a forklift, the results can be catastrophic.
Engineered vertical barrier netting systems provide protection against this happening by installing such systems along walkways or near workstations where employees are working. Systems are designed based on the total height of coverage, weights of each box, tote or pallet that is stacked and total length of coverage. Freestanding or Floor-to-Ceiling posts are designed and Engineered for each specific application.
Additional Netting Resources
View Our
Photo Gallery
Video
Library
Netting
Library
View Netting
Catalogue
Latest News