Aircraft Wheel and Brake Service Cart Deployed at an American Airport
Product
Aircraft Wheel and Brake Service Cart
The Aviation Wheel and Brake Service Cart was designed to provide safe and quick movement of aircraft wheels and tooling required to perform removal and replacement of unserviceable wheel and tire assemblies. The low-profile design ensures easy and safe loading and unloading. It is designed for wide body commercial aircraft tires and can hold (2) 36″" x 118″" tires as well as (2) 100T axle jacks. Operational at several long-haul operators, the Aviation Tire Change Trailer provides safe, low risk tire change capability on the ramp or in the hangar. The aluminum swing gate construction ensures safe operation of the Tire Trailer. Available with multiple features, our Professional Engineers will work with you to determine what size Tire Trailer works best with your fleet of aircrafts.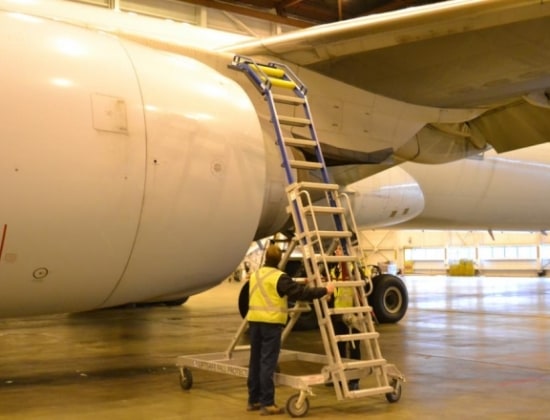 Tested and operational at Air Canada; the Engine Access Stand has received exceptional reviews as this aircraft safety solution solved for the clients need to (a) immediately address their safety concerns (b) offer minimal impact to their hangar footprint and (c) could be easily moved/stored by one employee.
View Project
We offer a huge selection of products and quick quotes for what you're looking for
Give us a call. Our friendly customer service staff are on hand to help you.