Aviation Stands built for Nose Cowls and Fan Cowls
Product
Aircraft Maintenance Stand and The Aviation Platform Stand
Function
Multi-purpose aviation maintenace
This American facility is benefiting from the use of two of our stands: The Aircraft Maintenance Stand and The Aviation Platform Stand. The Aviation platform stand has been designed for maintenance access to a multitude of aircraft, requiring a safe platform for either 1 or 2 technicians. The Aircraft Maintenance Stand facilitates safe access to nose cowls, fan cowls and pylon disconnect zones while also offering the flexibility to access other areas of the aircraft.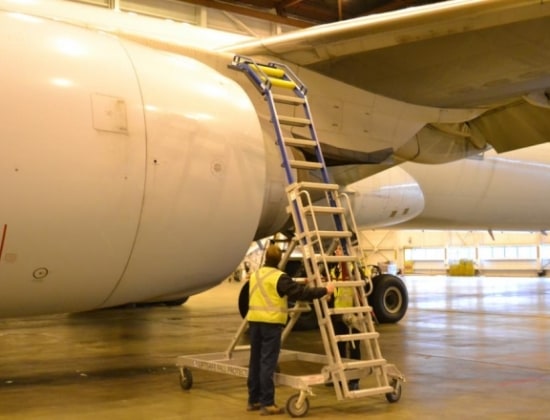 Tested and operational at Air Canada; the Engine Access Stand has received exceptional reviews as this aircraft safety solution solved for the clients need to (a) immediately address their safety concerns (b) offer minimal impact to their hangar footprint and (c) could be easily moved/stored by one employee.
View Project
We offer a huge selection of products and quick quotes for what you're looking for
Give us a call. Our friendly customer service staff are on hand to help you.