Engine Access Stand built for Rolls Royce Aircraft Engine
Product
Engine Access Stand
Industry
Aircraft Engine Manufacture
Function
Regular Engine Maintenance
Liftsafe Fall Protection is proud to be working with one of the best – Rolls Royce! As you may know, Rolls-Royce has launched the IntelligentEngine. Liftsafe Fall Protection's aviation safety products are able to access and service the IntelligentEngine, including the Aircraft Maintenance and Engine Access Stand. The Aircraft Maintenance and Engine Access Stand is designed for both under and over cowling access requirements of the B787 and B767.
As with all our stands, we use anti-fatigue ladder rungs rather than narrow ladder rungs. This ensures comfort and safety when using the Aircraft Maintenance Stands to change LRU'S, adjust components or connect/disconnect engines and nacelles. Functionality improves as a result of a lighter design, smaller footprint and greater geometry. This product is currently in use at multiple operators, MRO'S and aircraft manufacturers.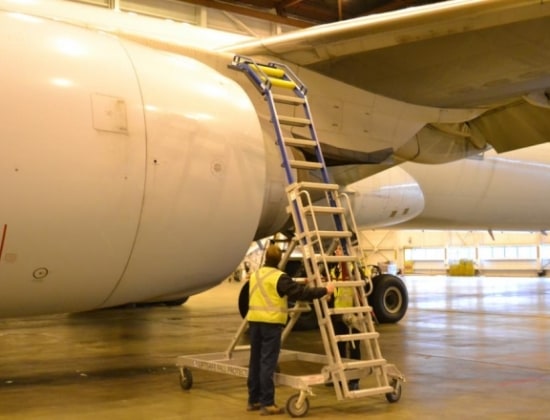 Tested and operational at Air Canada; the Engine Access Stand has received exceptional reviews as this aircraft safety solution solved for the clients need to (a) immediately address their safety concerns (b) offer minimal impact to their hangar footprint and (c) could be easily moved/stored by one employee.
View Project
We offer a huge selection of products and quick quotes for what you're looking for
Give us a call. Our friendly customer service staff are on hand to help you.