RoofGuard Custom Guardrail Systems
We offer custom rooftop guardrail systems for instances such as: when a rooftop requires more coverage than what is available in a rooftop guardrail kit or when the rooftop has a unique layout and needs a more customized solution.
By investing in a custom rooftop fall prevention system you are ensuring that your company's rooftop has optimal coverage to fully protect employees working at heights. Custom systems can include anything from a rooftop safety railing system across your entire rooftop, to building a rooftop guardrail system around your fixed access ladder in order to allow for easy and safe egress and ingress onto your rooftop.
RoofGuard has been designed to meet or exceed all major North American safety standards/regulations including Ontario MOL requirements, ANSI, OSHA, Canadian OHS & WorkSafeBC.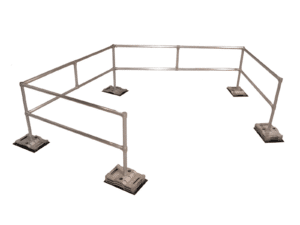 Mezzanine guardrail systems allow workers to access elevated areas within your facility or create more space inside your facility while still meeting the working at heights requirements set out by OHSA.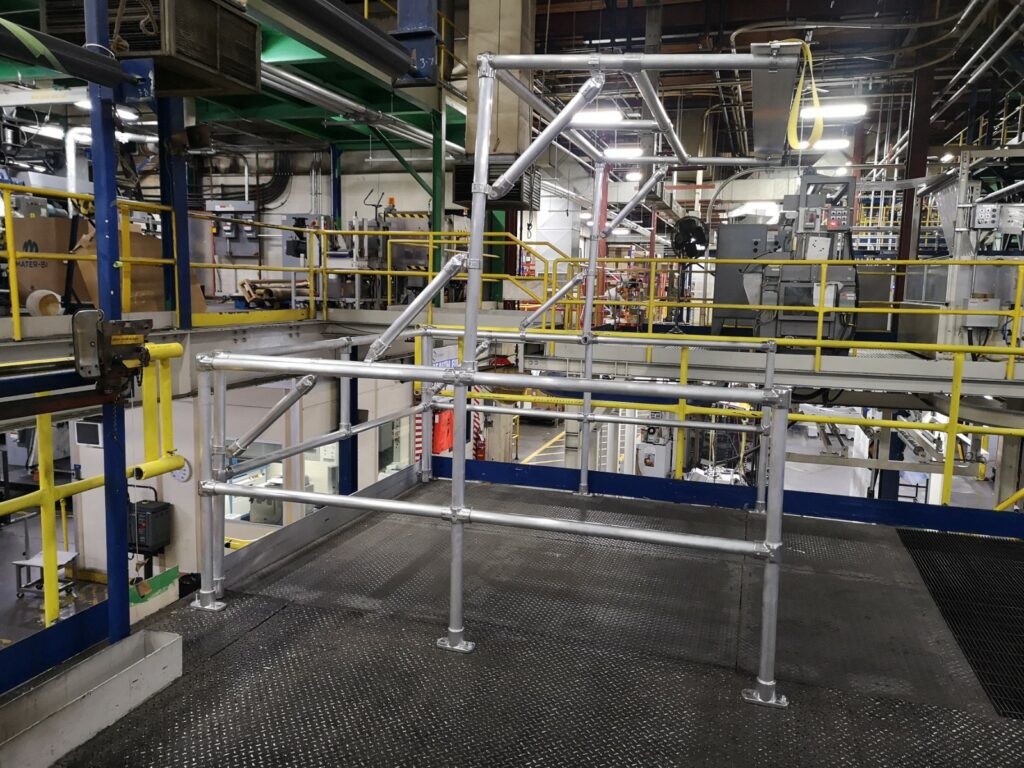 Hinged variable fittings that can be customized to fit any angle.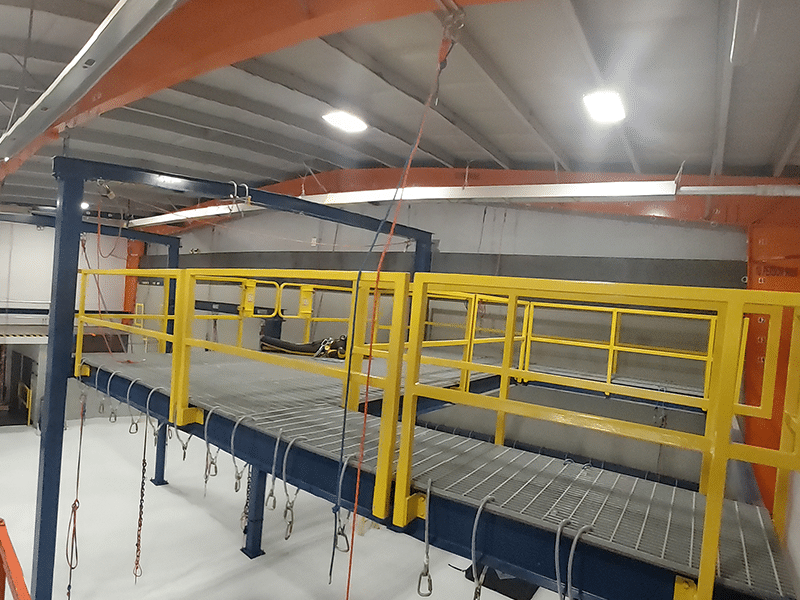 Custom gates designed with a pivoting gate that goes up and down to provide an easy drop off location on elevated platforms while ensuring workers are complying with working at heights requirements.
Custom RoofGuard Rooftop Guardrail
These custom rooftop guardrail systems allow for you to ensure the safety of your staff and contractors, even around unique obstructions that may be located on your rooftop.
Components
Specifications/Features
Applications
Regulations
Resources
SPECIFICATION SHEET
Components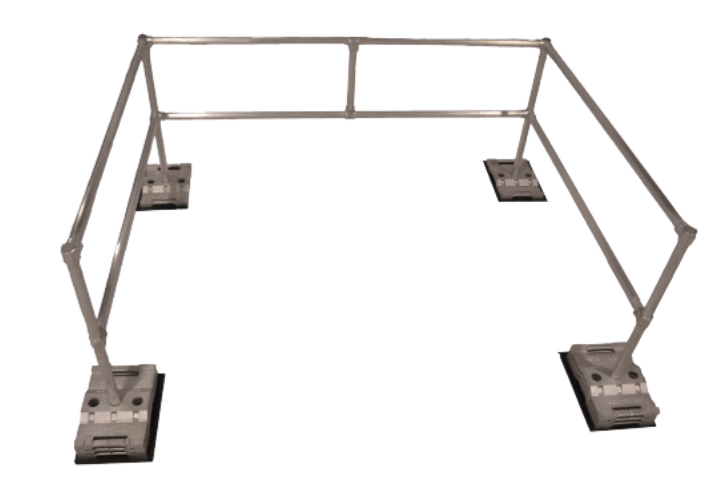 Base plates: Galvanized cast steel weights (18kg)
Aluminum pipe: Aluminum T6-6061, 1.5" SCH 40 – 48mm (1.90 inches) O D
Fittings: Aluminum, Magnesium Alloy, 535
Fasteners: stainless steel
Support bar: Aluminum 18" bar placed in the middle of rails greater than 6ft
Specifications/Features
Applications
Regulations
Resources
SPECIFICATION SHEET
Frequently Asked Questions
The Hierarchy of Fall Protection Solutions
Offer a wide range of high-quality engineered fall protection solutions to your customers.
Learn more about our team and what sets us apart as industry experts in fall protection, ground support and material handling industries.
Dive into the latest netting options our team has to offer. This catalogue will provide a complete overview of our products and services.
Our team is committed to providing the highest level of customer service. If you didn't find the information you were looking for, please contact us.
We offer a huge selection of products and quick quotes for what you're looking for.
Give us a call. Our friendly customer service staff are on hand to help you.