Horizontal Rack Netting Systems (RackGuard)
Our horizontal rack netting systems are designed to ensure the safety of workers who have to enter racking bays to access product and are at risk of having a box fall from an upper level.
This custom configuration utilizes specific brackets for mounting inside the rack. Out custom horizontal netting brackets mount inside the racking system to hang our standard 2500 lbs pallet net. Custom options are available.
Why Our Industrial Rack Netting is the Solution for you:
RackGuard is an engineered "system" consisting of load-rated netting panels, custom-engineered offset brackets, engineered frame extensions (when needed), and related rigging hardware. The netting panels are made to order to fit each and every racking layout. RackGuard netting systems have been designed and tested specifically for industrial racking applications and offer different netting materials for different load requirements depending on load weights.
Components
Specifications/Features
Applications
Regulations
Resources
Components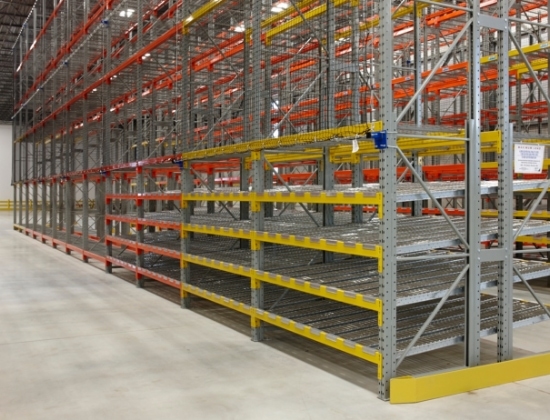 OFFSET BRACKET
The flue space between racking systems is often an area that sees a high volume of product falls and damages that workers are unable to access. Our Rack Netting System can be installed within this space to help reduce product loss and keep product from getting mixed up with another pallet load.
Available offset brackets: 2", 3", 4", 6", 9", 10", 12" & custom sizes
Flush mount options available
NETTING CABLE
1/4" aircraft cable (for up to 3000 lbs pallets)
3/8" (3500 – 5000 lbs pallet load)
NETTING PANEL
2500 lbs net – 2" square, industrial safety netting
3000 lbs net – 2" square, industrial safety netting
6000 lbs net – 2-½" square, fall arrest netting
EXTENSION BRACKET
Available from 1 ft up to 6 ft in height
STANDARD RIGGING
Wire rope clips
Thimbles
Turnbuckles
Eyebolts
Safety snap hooks
Specifications/Features
Applications
Regulations
Resources
Frequently Asked Questions
Learn more about our team and what sets us apart as industry experts in fall protection, ground support and material handling industries.
Dive into the latest netting options our team has to offer. This catalogue will provide a complete overview of our products and services.
Our team is committed to providing the highest level of customer service. If you didn't find the information you were looking for, please contact us.
We offer a huge selection of products and quick quotes for what you're looking for.
Give us a call. Our friendly customer service staff are on hand to help you.