Floor Mounted Conveyor Netting Systems
One form of industrial conveyor found in warehouses are floor-mounted systems. In terms of employee safety, the number one concern is products falling from the conveyor and striking someone below. The second concern is product damage or loss from a product fall. Liftsafe Fall Protection conveyor netting systems can prevent both of these things from happening.
Conveyor Netting Systems are tailored to your facility's operational needs, installed in a manner which does not obstruct workflow or equipment, and rated for your product capacity specifically.
Compliant with ANSI b.20.1 standard for conveyor safety and OSHA 1926.555 (a) (5) requirements for conveyor safety: "Where a conveyor passes over work areas, aisles, or thoroughfares, suitable conveyor guards shall be provided to protect employees required to work below the conveyors." With simple custom netting solutions from Liftsafe Fall Protection, you will avoid shut downs, decrease personal injuries and down time, create a safe workplace, and increase employee morale and productivity.
Specifications
Features & Benefits
Applications
Regulations
Catalogue
Specifications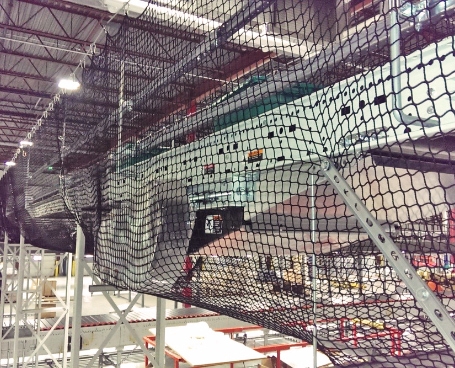 AIRCRAFT CABLE (GALVANIZED CABLE)

NETTING PANEL


1000 lbs netting – 1" square

EXTENSION BRACKET (optional)


Available from 1 ft up to 6 ft in height

STANDARD RIGGING


Wire Rope Clips
Thimbles
Turnbuckles
Eyebolts
Safety Snap Hooks
Threaded rods
Many custom options
Angle iron
Features & Benefits
Applications
Regulations
Catalogue
Frequently Asked Questions
Learn more about our team and what sets us apart as industry experts in fall protection, ground support and material handling industries.
Dive into the latest netting options our team has to offer. This catalogue will provide a complete overview of our products and services.
Our team is committed to providing the highest level of customer service. If you didn't find the information you were looking for, please contact us.
We offer a huge selection of products and quick quotes for what you're looking for.
Give us a call. Our friendly customer service staff are on hand to help you.