RoofGuard X-Press Tips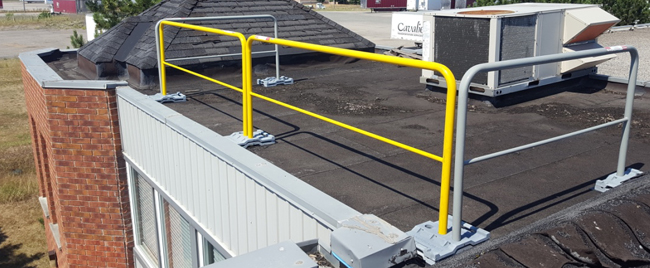 RoofGuard X-Press Rails are sold by the rail length, which though beneficial in allowing you to customize your system in order to ensure you have the correct amount of rooftop guardrail needed in order to cover your desired area; it can make it at times a difficult to sell. In order to properly be able to install a RoofGuard X-Press system, you need to have the correct number of baseplates, rubber pads, yellow x-press rails and grey x-press rails.
The baseplates and rubber pads are considered to be required accessories and are a needed component in order to be able to correctly install your system. The amount of yellow rail that is required will also determine the quantity of grey rail you need in order to be able to properly assemble the system. These numbers could also fluctuate based on the way you set up the system.
With the issue of not being able to know just how much of each part is required in order to be able to fully assemble the system, we have come with the examples shown below.
8 Linear Feet: 
1 Yellow X-Press Rail

2 Grey X-Press Rail

8 RoofGuard Baseplates

4 Rubber Pads
16 Linear Feet:
2 Yellow X-Press Rail

2 Grey X-Press Rail

10 RoofGuard Baseplates

5 Rubber Pads
24 Linear Feet:
3 Yellow X-Press Rail

2 Grey X-Press Rail

12 RoofGuard Baseplates

6 Rubber Pads
48 Linear Feet
6 Yellow X-Press Rail

3 Grey X-Press Rail

20 RoofGuard Baseplates

10 Rubber Pads
96 Linear Feet
12 Yellow X-Press Rail

5 Grey X-Press Rail

36 RoofGuard Baseplates

18 Rubber Pads