HatchGuard Guardrail kit with self closing gate
Function
Hatch protection for rooftop opening
Shipped on one palette with everything you need, our HatchGuard Guardrail Kit checks off one of the major working at heights criteria in Canada. HatchGuard uses rooftop guardrail in order to provide immediate fall protection around hatches and openings that provide access to elevated surfaces (often rooftops). The kit is a safe, engineered and easy solution to keep workers safe. Each system utilizes a spring loaded gate, ensuring the gate is always in a secure position after roof entry.
Our unique kits require no roof membrane penetration which means no issues with resealing. Our counterweighted system meets and exceeds all federal and provincial working at heights regulations including MOL requirements, ANSI and OHSA as well as OSHA (United States). Liftsafe Fall Protection assists businesses looking to ensure their fall protection needs are met as effortlessly as possible.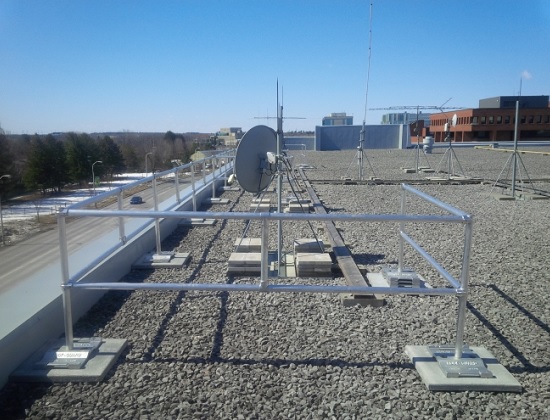 Liftsafe Fall Protection worked with one of our dealers on this large project at Algonquin College. Edge protection was the main focus of this project which aimed to protect maintenance workers who had to service equipment close to the edge of the roof.
View Project
We offer a huge selection of products and quick quotes for what you're looking for
Give us a call. Our friendly customer service staff are on hand to help you.