Learn about RoofGuard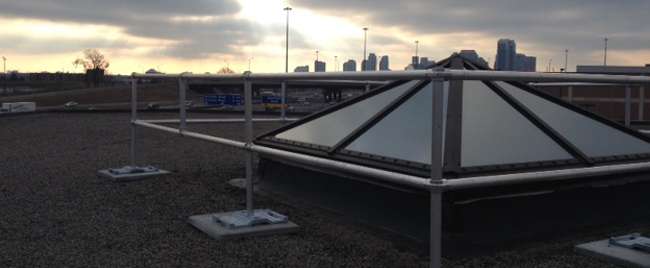 RoofGuard is our innovative line of fall prevention products that are designed in order to help keep employees safe while they conduct work on rooftops. All of our fall prevention devices are designed in order to be non-penetration, easy to install and simplistic in operation, and require little to no training in order to be able to properly utilize them.
Every single one of our RoofGuard products is designed around our counter-weighted baseplates which only weigh 40lbs, are stackable and come with built-in handles making them easy to transport.
Learn more here.
Designed in order to be able to easily be shipped and stored, all our RoofGuard kits are easy to move and install with simple to follow directions assisting in assembly. Each of our fall prevention guardrail kits is designed to fit within a single crate.
The RoofGuard Line of Products have an endless number of applications and markets some of which include:
Municipal Buildings
Warehouses and Factories
Hospitals
Schools
Government Buildings
Manufacturing Facilities
To learn more please see our: