Landing Gear Access Stand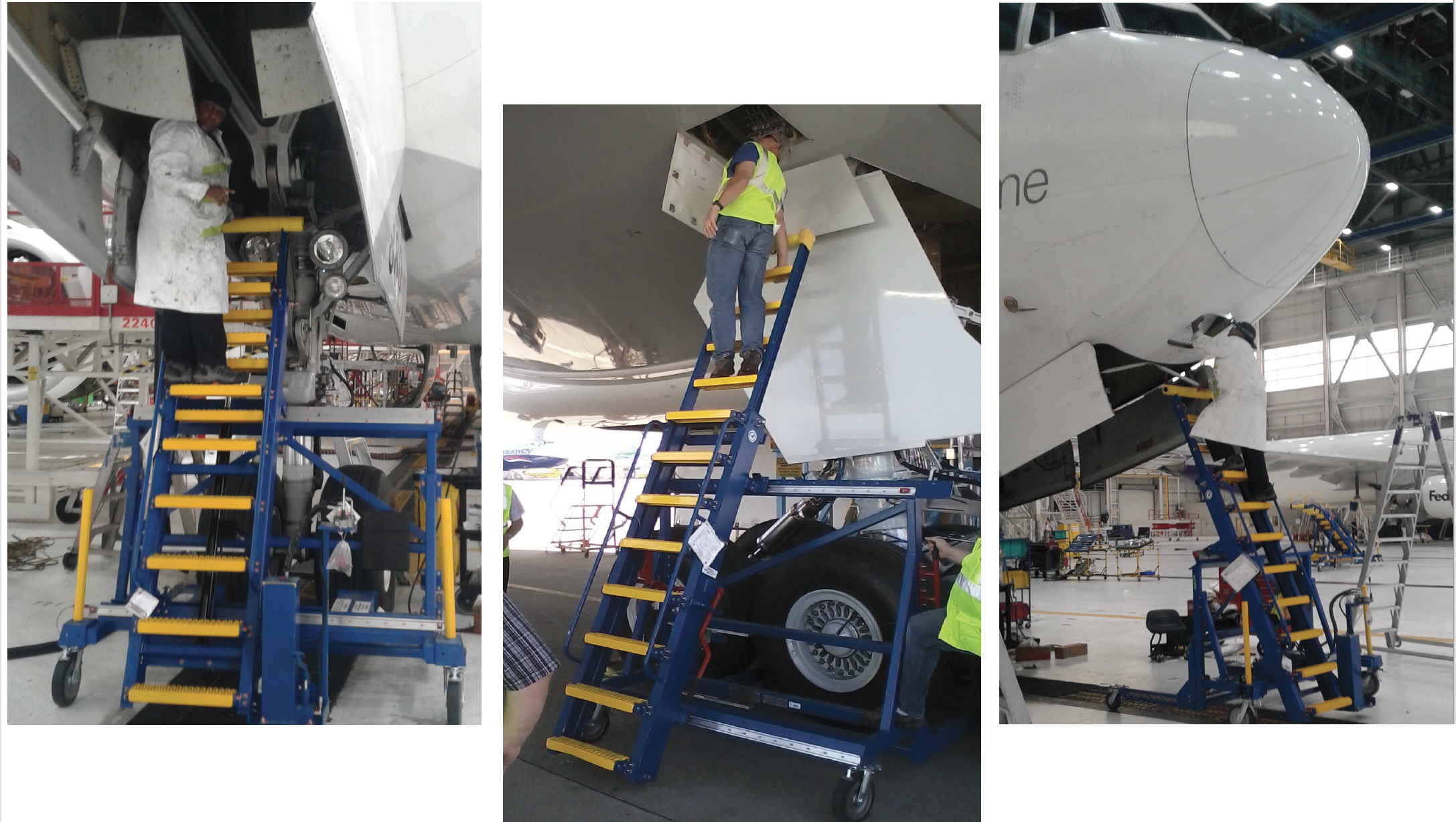 The Landing Gear Access Stand is built to handle all wide-body (and B757) landing gear and nose gear applications. It will also provide access to the A320 family main gear. Access to engines with this stand, when used in conjunction with the DF071554-06, is also possible. The unit also facilitates access to aft fuselage, access panels, forward avionics and access hatches.
The Landing Gear Access Stand provides safe access to all maintenance locations of the main and nose landing gear. The base frame is designed to adjust to most wheel assembly configurations on main and nose gear. The hydraulic height adjustment, one hand lateral operation and full swivel and lock casters allow single technician placement and use. The Landing Gear Access Stand utilizes anti-slip, anti-fatigue ladder steps and fall restraint anchorage on the upper ladder. A corrosion-resistant powder coat finish ensures the longevity of the stand. Lift truck fork pockets are included in the base frame for easy relocation.
The unit is designed for Boeing wide-body aircraft, as well as the B757 in both the main and nose gear positions. The unit has proven effective on aft fuselage access of the B737. This unit, although designed for specific landing gear access tasks, has proven itself in many other maintenance inspection and technical operations scenarios including Airbus main gear and nose access, as well as aft fuselage points of the Embraer 175 & 190. The Landing Gear Access Stand is designed and tested in accordance with ANSI-ASC A14.7 and BS EN 131.7 including CE Certification.
Accessories 
Air Powered Pump
Side Mount Tow Bar
Utilities Package
787 "low leg" fit under door
Technical Specifications 
Part Number.
DF071592-04
Designed For. 
Landing Gear Access
Movement
1 Person
Towing Speed
10 KPH/6 MPH
Foot Print.
87″ x 96″ / 220.9cm x 243.8cm
Shipping Info (DIMS).
87″ x 96″ x 96″ x 1,100lbs/
220.9cm x 243.8cm x 243.8cm x 498.9kg
Height. 
Lowered:
85 3/4″ / 217.8cmExtended:
139 1/8″ / 353.3cm
Weight Capacity.
150 kg/330 lbs
Certifications.
ANSI-ASC A14.7, BS EN 131.7, CE, DIN EN 12312-8 & EN 1915-1
Lateral Displacement.
56 ½″ / 143.5cm On Centre
Material.
Ladder: Steel
Frame: Steel
Finish.
Powder Coated Finish
Number of Users. 
1 User
Caster Details.
Back: 8″ / 20.3cm Split Castor with Brake and Swivel LockFront: 6″ / 15.2cm with Swivel
Controls.
Hydraulic Foot Pump
Fully Extended.
Ladder: 57 Strokes
Fall Restraint Anchor Points.
Equipped
Padding Material
Equipped

Aircraft Applicability Chart

Please contact us directly if you do not see your aircraft listed above.
Additional Landing Gear Access Stand Resources
NOTE: For previous versions of drawings please visit the library.
Latest News 
Service Bulletin - Landing Gear Access Stand>
Compliance vs Safety - Engine Access Stand >
Landing Gear Access Stand featured in Ground Support Worldwide magazine >