Aircraft Maintenance and Engine Access Stand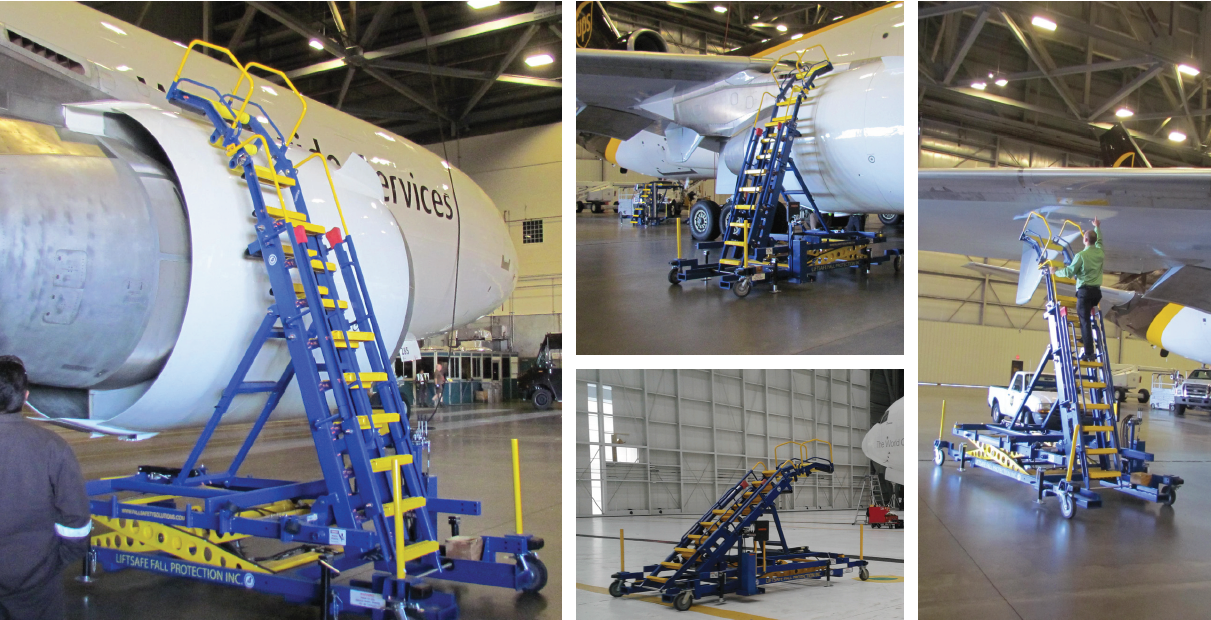 This Aircraft Maintenance and Engine Access Stand is designed with an adjustable scissor lift base to give it the height required to access the outboard engines on the A380, B747, A340 series, A400 etc. As with all our stands, we use anti-fatigue ladder steps rather than narrow ladder rungs. This ensures comfort when using the stands to change LRU'S, adjust components, or connect/disconnect engines and nacelles. Functionality improvements include outboard engines and pylon access (A380, A340 and B747-8) as well as avionics and aft-fuselage access points. Currently in use at multiple operators, MRO'S and aircraft manufacturers, this unit has flexibility for use on all Boeing wide body aircraft in addition to the B757. The dynamic design also allows for full use on Airbus wide body aircraft as well as the A320 family.
The Aircraft Maintenance and Engine Access Stand facilitates safe access to nose cowls, fan cowls and pylon disconnect zones on PW, GE and RR engines, providing a safe working solution to many of the traditionally difficult under-cowling maintenance locations. The unit is also designed to safely access the same points outside of cowling, specifically forward and aft pylon service points, as well as hard to reach refuel panels and under-wing areas. The hydraulic pitch and height adjustment allow for the diverse angles and height variables frequently required when servicing aircraft. The Aircraft Maintenance and Engine Access Stand contains extensive aluminum construction for easy movement and corrosion-resistant powder coat finish for longevity. For increased safety and ease of mobility, the Aircraft Maintenance and Engine Access Stand comes equipped with 4 corner-leveling jacks, fold away tow bars and lift truck fork pockets. The Aircraft Maintenance and Engine Access Stand is designed and tested in accordance with ANSI-ASC A14.7 and BS EN 131.7 and includes CE Certification.
Accessories 
Air powered pump
Fork pockets
Fold away tow bar
Level jacks
Platform Adaptors: Plugin platform in place of the curved section on all current engine stands.
Straight extension
Utilities Package
777X pylon extension
Technical Specifications 
Part Number.
DF071554-06
Designed For. 
Engine Access
Movement
2 Person
Towing Speed
10 KPH/6 MPH
Foot Print.
89 7/8″ x 161 ¾″ /
228.2cm x 411.8cm
Shipping (DIMS).


89 11/16″ x 64 1/2″ x 163 3/16″ x 2,400 lbs/
227.8cm x 163.8cm x
414.4cm x 1,088.6kg

Height.
Low:
126 1/2″ / 321.3cm
High:
239 1/4″ / 607.6cm
Weight Capacity.
150 kg/330 lbs
Certifications.
ANSI-ASC A14.7, BS EN 131.7, CE, DIN EN 12312-8 & EN 1915-1
Angles.
73-83 Degrees
Material.
Ladder: Aluminum
Frame: Steel
Finish.
Powder Coated Finish
Number of Users. 
1 User
Caster Details.
8″ / 20.3cm Split Castor with Brake and Swivel Lock
Controls.
Hydraulic Foot Pump
Fully Extended.
Ladder: 128 Strokes
Tilt: 43 Strokes
Scissors: 86 Strokes
Fall Restraint Anchor Points.
Equipped
Padding Material
Equipped

Aircraft Applicability Chart

Please contact us directly if you do not see your aircraft listed above.
Additional Aircraft Maintenance and Engine Access Stand Resources
NOTE: For previous versions of drawings please visit the library.
Latest News 
Service Bulletin - Engine Access Stand>
Compliance vs Safety - Engine Access Stand >