How we Stack Up Against the Competition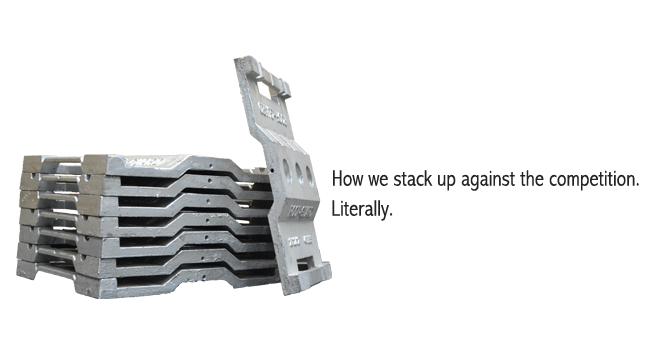 Our fall safety systems revolve around a unique, stackable, low profile 40lb baseplate.
This design took into account all of the aspects required from manufacture, to transport, to storage, and lastly to installation. Our goal is to keep it simple. Only one tool is required for installation.
What differentiates our baseplates from the competition, and why that matters to you.
Our 40lb baseplate was designed specifically to "nest" enablng our systems to have the adequate amount of ballast to comply with Fall Protection Legislation. Compared to other Counter-Weighted Rooftop Guardrail Systems, our baseplates are significantly easier to maneuver on rooftops. Our RoofGuard Baseplates, as mentioned above, weigh 40lbs and come with carrying handles. Additionally, seeing as the weight is so low, workers can move multiple baseplates per person. Compared to our competition, which requires 2+ people to maneuver one plate weighing in excess of 90lbs.
Without sacrificing safety, our baseplates nest which essentially means they are stackable. We can achieve the necessary weight by stacking our plates thus ensuring a reliable system with the elimination of worker injury moving the system on roofs.
Our baseplates come conveniently packed in boxes, with two per box. The intent behind these baseplates was for them to be, easy to stack, easy to store and easy to ship.
Compared to our competition, our RoofGuard Baseplates can be stored and shipped on a single skid this is of course dependant on the job size. Competitors similar products require multiple skids in order to ship the same volume of baseplates, meaning higher shipping and storage costs.
The images below show a shipment containing over 500 baseplates.
Additional Rooftop Safety Resources
What is the difference between a Passive and an Active Fall Protection System >
How our product complies/exceeds working at heights legislation/training requirements >
Shipping and Storage made easy. How RoofGuard Kits reduce install time and save you money >
Latest News
Fall Prevention for Solar Panel Maintenance Workers >
How to Be Safe During Rooftop Maintenance >
Working at Heights - Safety and Training >
Are you working too close to the edge >