Benefits of RoofGuard's Baseplates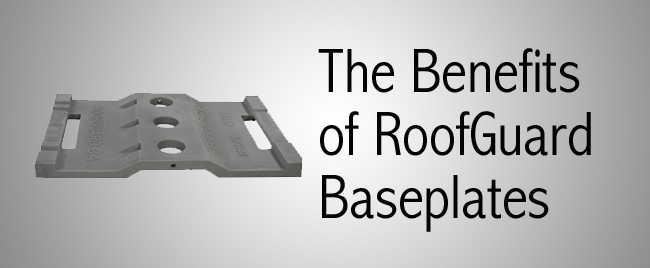 Portable, stackable and easy to carry baseplates are a key component of RoofGuard's fall protection systems. Our RoofGuard fall safety solutions all revolve around one unique, low profile 40lb baseplate.
These 40lb baseplates are designed in order to nest which enables these fall prevention systems to have an adequate amount of ballast in order to comply with Fall Protection Legislation.  Not only are these baseplates compliant with legislation but they are significantly easier to maneuver on rooftops compared to other products, as they weigh only 40lbs and have been designed with carrying handles.
A single worker is able to move multiple RoofGuard baseplates. Which when compared to the competition, which requires 2+ people to maneuver one plate weighing in excess of 90lbs, you can see how RoofGuard's baseplates are superior by comparison.
This product is included in many of our kits, but for the X-Press rail system, it is up to you to calculate the number of baseplates required in order to complete the system.
Learn about our baseplates here.