January 25, 2016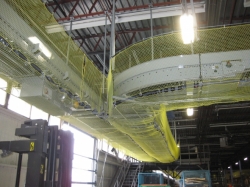 The Ministry of Labour will be conducting their first 2016 blitz. It will focus primarily on machine guarding and lockouts. A lot of industrial machines have pinch points, energized parts and other hazards that endanger workers using or working near machinery. OHS laws require employers to have guards to avert workers from making contact with hazards. Poorly guarded machinery can lead to crushing, amputations and even death.
The sectors that will be inspected during this blitz are automotive, food & beverage, wood & metal fabrication, textiles & printing, ceramics, logging (sawmills) and pulp & paper.
Ministry of Labour inspectors will be on high alert for conveyor belt violations, read here for some of the high hazard conveyor priorities.