April 7, 2015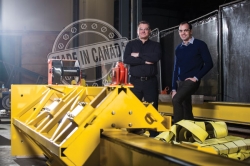 The Liftsafe Group of Companies was recently featured in the April 2015 Canadian Industrial Machinery Magazine!
As its name implies, the Liftsafe Group of Companies is all about safety.
It is more than a single entity too. The company comprises four different divisions with a single theme in common: safety. The four companies— Liftsafe Engineering, Liftsafe Fall Protection, PARCS, and R&D ERGO—revolve around building, selling, inspecting, and servicing equipment, much of which is built in the company's two Ayr, Ontario, manufacturing facilities.
The company probably is best known for its line of overhead, jib, and gantry cranes, although a large part of that business also includes the installation, service, and prestart reviews of the equipment.
Inspections are performed on custom lifting fixtures, access ladders, overhead cranes, mobile cranes, and personnel and automotive lifts. The company also has an in-house service department that includes 24-hour emergency service, as well as on-site breakdown service. One of the Ayr facilities also is stocked with common wear parts, and it has a hoist inspection and testing area.
Custom lifting systems make up an important part of Liftsafe Engineering, with numerous electric and pneumatic hoist options, spreader bars, and overhead lifting equipment. Recently this division of the company has been manufacturing equipment for the worldwide aerospace market, including tire carriers, engine access platforms, and aircraft access stands.
This ground support equipment, currently in use by many of the world's largest airlines, represents a significant growth area for the company. But it is in the crane business where Liftsafe began.