March 3, 2015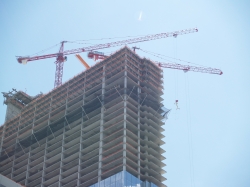 Not an April Fool's Joke….
"As of April 1, 2015, certain workers will need to complete a working at heights training program that has been approved by the Chief Prevention Officer before they can work at heights."
Unsafe work at heights is one of the leading causes of fatalities in the Ontario workplace. If you work at heights of 10 feet or more, these new regulatory requirements apply to you and your employees. This new Working at Heights training program must be completed by April 1st, 2017. However, there is a caveat, if you have already have completed a Fall Protection training course, you are in compliance and can work above 10ft, and you have a 2 year transition period in order to complete the new Working at Heights training.
After April 1st, those who do not currently have Fall Protection training legally cannot work above heights of 10 ft. until they complete the new MOL Working at Heights Training.  The training requirement is for employees who utilize any of the following methods of fall protection:
Travel Restraint Systems
Fall Restricting Systems
Fall Arrest Systems
Safety Nets
Work Belts or Safety Belts.
This new Working at Heights Training Program Standard will ensure everyone is consistently trained and thus better protected on the job. The training standard will include the following information.
Rights and responsibilities related to working at heights
Hazard identification
Ladder safety
Proper usage of personal protective equipment
After Newfoundland and Labrador introduced mandatory, approved Working at Heights training on January 1, 2012, reported fall injuries dropped by 24 per cent in the first 16 months.
George Gritziotis, Chief Prevention Officer is quoted as saying, "Working at heights is one of the most dangerous types of work at construction projects. By making these standards mandatory, we are ensuring those workers receive consistent, high-quality training. Our shared goal is to improve health and safety and prevent injuries and deaths of construction workers."
You may question whether it applies to your company if you don't consider yourself a "construction" company. However, "construction activity" can occur in any industry in connection with a project. Think about whenever new machinery is installed, structures or machinery undergo maintenance, renovation or repairs. Regardless of your considered sector, it is all construction activity and will be mandated under the new rules.
If your employees face fall hazards, you're required to provide fall protection training-no joke!