March 23, 2015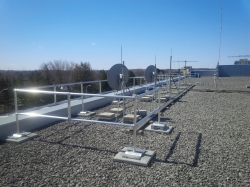 Spring is a time of renewal, spring cleaning and maintenance. It's time to do your seasonal must do's for roof top maintenance.  Ensure your roof top work environment and rooftop access are safe and protected with
RoofGuard
. Taking shortcuts when working on a rooftop without proper protection will only spell disaster.
OSHA's requires employers to ensure a proper safety program for employees working at heights. RoofGuard provides workers with a safe, simple, economical passive fall protection solution when working on roof top mechanical equipment or when working around hatch openings or ladder access points.
Guard rails offer fall protection to multiple workers with no tie-off points or PPE required.  Our RoofGuard system is free standing and does not require attachment to the roof itself, so no penetration to the roof membrane.  It is designed and engineered to strict standards and offers a simple, versatile, easy to install alternative to engineered tie-off points and anchorage systems. RoofGuard can be easily reconfigured during installation to handle almost any scenario. Our professional Engineers can visit your facility to ensure proper design of the system around hazardous areas. In most cases the system can also be moved to cover different areas if work is periodic.
Liftsafe Fall Protection Inc. has re-designed our versatile and economical fall protection system. With a focus on eliminating the potential hazards for roof top falls, Roof Guard X-Press has been created to combine safety and innovation. Our all-new system reduces installation time drastically and still contains many of the excellent features of our Roof Guard Classic model.We offer both systems in easy to install kits, or as a complete engineered turn-key installation depending on the scope of the project. We also offer a wide variety of products such as our RoofStep or RoofWalk to protect your workers and your rooftop.